Montgomery Pool
Information about Montgomery Pool.
Montgomery Pool Info
5301 Palo Duro NE
Albuquerque, NM 87110
Map
Phone: (505) 888-8123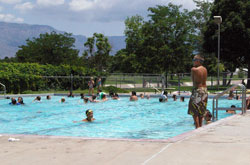 Montgomery Pool
Montgomery Pool is a 25-yard outdoor pool.
Admission & Holidays
 See our swimming pool fees.
Swim Lessons
Find out more about swim lessons.
Aquatic Team
Cancelled for 2020 season
Find out more about aquatic teams.
The Montgomery pool will soon have a makeover!