Open Space
Information about the City of Albuquerque's Open Space Division.
International Mud Day 2021
JUNE 26, 2021
10:00am - 2:00pm
Bring a kid or be a kid! Join us for fun in the mud. There will be many activities such as a obstacle course, mud cafe, painting with mud and more. 
 Pop Fizz will be here from 11:00am - 12pm. The first 100 kids (toddler to 12th grade) will get a free Paleta!
Join us at the Open Space Visitor Center.
Summer Hikes
To register, email [email protected] or call 505-768-4205. Limited number of availability.
June 13th- San Antonito, Moderate 8:30 am
A guided hike around one of our smaller, lesser known properties in the east mountains.
June 27th- Milne, moderately strenuous 8:30 am
Located in the East mountains, Milne is known for having a wide variety of wildflowers.
July 11th- Juan Tomas, Moderately strenuous 8:30am
A guided hike around one of Open Spaces first and largest properties. Juan Tomas is also known for having a great variety and presentation of wildflowers
July 25th- Bosque Ponds, Easy 8:30am
An easier walk through the Bosque to learn about the local flora.
August 8th- Elena Gallegos, Moderate 8:30 am
A guided hike around the Elena Gallegos
---
About the Open Space Division
Open Space works to acquire and protect the natural character of land designated as major public Open Space in the 1988 revised City of Albuquerque Comprehensive Plan.
These lands, which comprise more than 29,000 acres in and around Albuquerque, are managed to:
Conserve natural and archaeological resources
Provide opportunities for outdoor education
Provide a place for low impact recreation
Define the edges of the urban environment.
STAY UPDATED ON EVENTS AND OPPORTUNITIES.
Open Space Division Newsletter
JOIN THE OPEN SPACE MAILING LIST.
Social Distancing on the Trails
While our Open Space trails are a great asset during this time, it's critical that anyone visiting City Open Space and other public lands help take care of these lands as well.
All trail users can help by practicing the following:
Pick up after your pets. Mutt Mitt stations and trash cans are available at most trailheads.
Pack out any trash from anything you bring with you on your hike (e.g. food wrappers, water bottles, etc.).
Stay on all designated trails to help reduce soil erosion and disturbances to plants and wildlife.
Enjoy, but do not disturb plants and wildlife.
Do not remove any artifacts, rocks, or other things that belong in Open Space.
Be courteous to other trail users and have fun.
Open Space trail users are also encouraged to remember general trail safety tips, like knowing where you are going, letting others know of your plans, and bringing a map, water, sunscreen and snack with you on any hike.
Finally, see more information below about properties that are less heavily used and provide opportunities for a safer experience. Other options include the Tijeras Arroyo, Juan Tomas, San Antonito, Calabacillas Arroyo, Manzano, and Quail Rancho Open Spaces. The City also manages Open Space in Sandoval County and the East Mountains, including Golden Open Space and the John A. Milne & Gutierrez Canyon.

See news items relevant to Open Space and new and archived newsletters.
Access agendas and minutes for upcoming and previous Open Space Advisory Board meetings.
Open Space Information
Open Space Lands Information
---
Maps! Download Open Space trail maps.


City Open Space Space partners with Google to provide virtual tours of Open Space trails.


Open Space Annual Pass form and information.


More information about City of Albuquerque Open Space Lands


Open Space needs your help! Volunteer today. There are many different volunteer positions available.
Open Space Alliance is a nonprofit (c3) which helps support Open Space programming. Donations to the Alliance are a vital part of helping keep programs free to the public.


Open Space Visitor Center
This facility is open!
---
Address: 6500 Coors Blvd NW, Albuquerque
Hours: Tuesday - Saturday 9:00 am - 5:00 pm.
NOTE New Phone:(505) 768-4950
NOTE -For those accessing the trails from the visitor center, please note that the Open Space Visitor Center parking lot gate closes at 5:00 pm
The Open Space Visitor Center (OSVC) has exhibits interpreting the natural and cultural resources the Open Space Division protects. See a variety of art and media from local, national and international artists in the Open Space Visitor Center Gallery.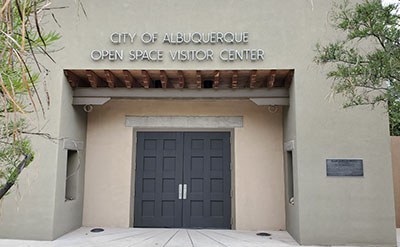 Visitor Center
Visitor Center Gallery
Open Space Activities
Things to do at Open Space
---
The Shooting Range Park provides a safe convenient location for Albuquerque residents and visitors to enjoy shooting sports and learn the skills of firearms for personal protection and hunting.


With the proper equipment and preparation a float down the Rio Grande in a kayak, raft, or canoe is a safe and fun way for the entire family to enjoy one of our City's most precious natural resources.


The Rio Grande Valley State Park is located along the Rio Grande and offers outdoor activities.


Teachers! The Get Into Open Space program provides rented bus service for school-aged children to attend Open Space Alliance and City of Albuquerque Open Space Division supported service learning projects.
UPCOMING EVENTS