Collection Day Overview
Information about trash collection in the City of Albuquerque.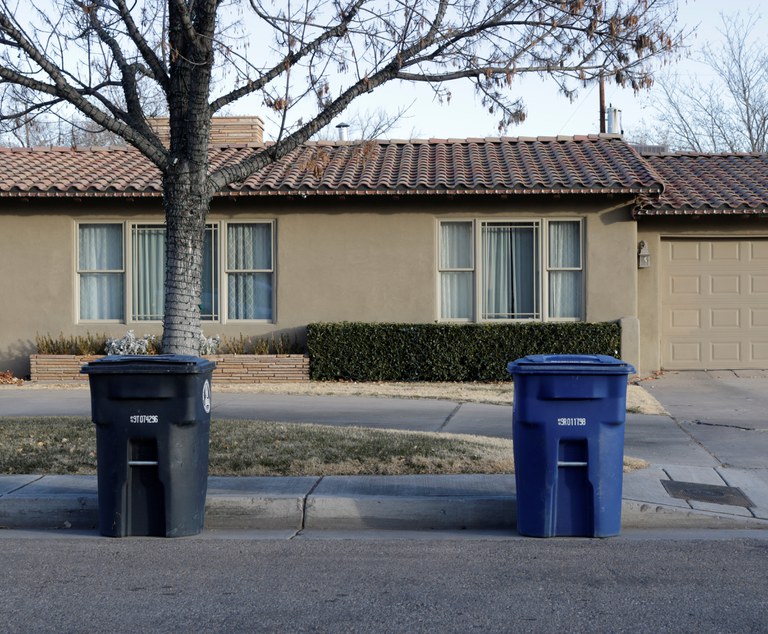 Do Your Part with Your Cart
Please keep trash and recycle carts lids fully closed. Do not overfill carts.
Set carts out by 7 a.m., remove from street within 24 hours.
Place wheeled cart at least five feet away from other carts, mailboxes, fire hydrants, parked cars, low hanging trees, or utility poles so trucks can easily access the cart.
Place trash and recycle carts with the wheels and handles toward the curb. Trash and recycle carts should be placed in the street.
Do not place hot ashes or coals into the cart.
Place all trash in plastic bags.
All household generated sharps: needles, lancets, and single razor blades must be placed inside a hard plastic container and labeled "Contains Sharps."
Do not place hazardous waste in your trash or recycle cart. See Household Hazardous Waste for more information.
Do not put medications in the trash. See Disposal of Pharmaceuticals for more information.
Do not put construction or demolition waste.
Do not dispose of waste containing free liquids.
Trash is collected every week on your designated trash day. To determine your trash day, look up your trash day by address.
Holiday Schedules
Trash collection is delayed by one day for the following holidays:
Thanksgiving
Christmas
New Year's Day
If the holiday is on a weekend no changes will occur to residential pick up.
Missed Pick-Ups
If your trash is not picked up on your regular collection day by 5:30 p.m., report online below or call 505-761-8100 or 311. Pick-up will occur within 24 hours or on the next business day.
Special Assistance Pickup
We provide special assistance trash, household hazardous waste, and glass pick-ups for elderly or disabled residents. Qualified residents must have a doctor's certification. To apply, please download and complete the Residential Disability Form.
New Residents
The Solid Waste Management department provides one 96-gallon plastic roll-out cart for curbside trash and one 96-gallon cart for recycling. Please contact us to begin residential trash and recycling collection. Once you have contacted us, staff will create an account for your residence and will mail you an information packet describing our services. To set up new service please notify Solid Waste Management by calling (505) 761-8100.
Low Income Assistance
Low-income assistance is available for homeowners through The Storehouse of Greater Albuquerque. Customers meeting household income requirements may qualify for assistance with their water, sewer, and refuse bills. For an application please contact The Storehouse at 505-842-6491 or Rio Grande Food Project at 505-967-8045.
Uncontained Trash Pick-Up
Excess garbage or yard waste that does not fit into your resident cart can be picked up for a fee. Property owners may request a special pick-up Monday-Saturday by phone at least 24 hours in advance for a $59.31 service fee. Call 311 to schedule.
Report Missed Pick Up
Report a missed trash pick-up via the online form here or by calling 311.