ABQ Apps
Information about mobile apps presented by the City of Albuquerque.
The City of Albuquerque makes data available for mobile app development and more.
Check out these mobile apps developed for the City of Albuquerque.
Highlighted City Apps
ABQ311
Report an issue around Albuquerque to the 311 Citizen Call Center.
ArcGIS Simple Map Viewer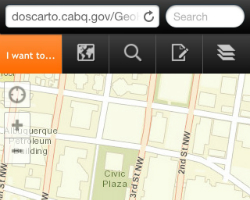 Locate City amenities and landmarks, such as bike paths and dog parks.
City Apps
ABQ Ride
ABQ Ride is the official City of Albuquerque mobile app for everything you need to know about using transit system. Calculate fares, track buses in real time, plan your trip, find connections to the Rail Runner commuter train and more.
---

UNM - Where's My Bus
Use this University of New Mexico-developed Transit App to find a bus stop near you, track your bus, calulate fares, and connect with other public transportation options around Albuquerque.
---
Albuquerque Museum Sculpture Garden Guide
The Albuquerque Museum of Art and History's Sculpture Garden iPhone App provides a sampling of audio files that discuss 13 out of 57 sculptures.
---
ABQ Balloon Museum App
The official City of Albuquerque app for the Anderson-Abruzzo Albuquerque International Balloon Museum. Visit the museum during Balloon Fiesta and use the in-app camera in the Virtual Tour feature to share your images with the museum.
---
ABQ BioPark App
Plan your visit to the ABQ BioPark using this mobile application to view hours and location, read the latest BioPark news, and learn about upcoming events.