Montgomery Pool
Montgomery Pool Info
5301 Palo Duro NE
Albuquerque, NM 87110
Map
Phone: (505) 767-5442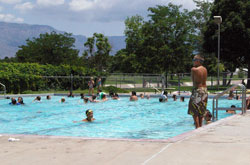 Montgomery Pool
Montgomery Pool is a 25-yard outdoor pool.
Admission & Holidays
 See our swimming pool fees.
Swim Lessons
Find out more about swim lessons.
Aquatic Team
Find out more about aquatic teams.
 Summer hours will be extended on weekends through September 4, 2022. 
Saturday and Sunday only
Recreational and Lap Swim available 12 – 5 p.m.