Montgomery Pool
The pool will be closed after 4:30pm Thursday, June 24,2021 for repairs. thank you for your understanding. Pool will reopen the following day as scheduled. Information about Montgomery Pool.
Montgomery Pool Info
5301 Palo Duro NE
Albuquerque, NM 87110
Map
Phone: (505) 888-8123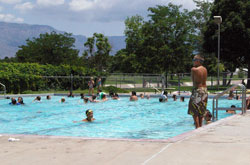 Montgomery Pool
Montgomery Pool is a 25-yard outdoor pool.
Lap Swim Procedures to change starting Monday, June 1. Learn More!
Admission & Holidays
 See our swimming pool fees.
Swim Lessons
Find out more about swim lessons.
Aquatic Team
Find out more about aquatic teams.
Summer Hours - May 29 - August 8. 2021    Reservation Required

Lap Swim (M-F)

Open Swim (M-F)

Lap Swim (weekends)

Open Swim (weekends)

Swim Lessons

Swim Team (Mon-Fri)

12:00 – 1:00 PM, 1:15 -2:15 PM

2:30 – 3:30 PM, 4:00 – 5:00 PM

5:30 PM – 6:30 PM, 7:00 – 8:00 PM

12:00-2:00 PM

2:30 – 4:30 PM

6:00 – 8:00 PM

12:00 – 1:00 PM, 1:15 -2:15 PM

2:30 – 3:30 PM, 4:00 – 5:00 PM

12:00-2:00 PM

2:30 – 4:30 PM

 

Sessions 1 - 4 Morning

 

Metro Aquatic Team June 7

7:00 – 9:00 AM