Model Rocketry
Rocket Build Program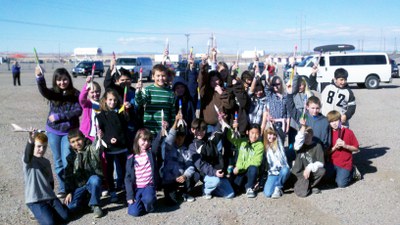 Rocket builds and launches can be reserved for private groups. Groups require a minimum of eight (8) participants and no more than twenty (20). Groups will need to provide the rocket kits and engines. Outdoor Recreation will provide guidance and support in the build of your rockets as well as launch boxes. An average rocket build and launch will take approximately two (2) to three (3) hours. Rocket builds and launches with Outdoor Recreation are conducted at Balloon Fiesta Park.
All launches must be scheduled through Parks & Recreation and will be dependent on current weather and fire conditions.
If you don't have a group of at least eight (8) participants, please contact your nearest City of Albuquerque Community Center and inquire about their next rocket build and launch event. Community Center rocket builds and launches are most frequently scheduled during school breaks.
Have a rocket already built and just need a safe space to launch? The north parking lot at Balloon Fiesta Park is available for rocket launches by reservation. Reservations must be made no less than seven (7) days prior to planned launch. Contact Susan Rice at 505-768-6050 or [email protected] to reserve launches at Balloon Fiesta Park.