Wilson Pool
Information about Wilson Pool.
Wilson Pool Info
6000 Anderson Avenue SE
Albuquerque, NM 87108
Map
Directions:San Mateo, south of East Central, east on Kathryn, south on Cardenas.
Phone: (505) 256-2095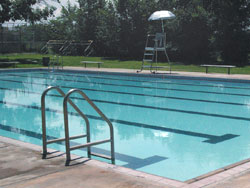 Wilson Pool
Wilson Pool is a 25-yard shallow, outdoor pool.
Admission & Holidays
See our swimming pool fees.
Swim Lessons
Find out more about swim lessons.
Aquatic Team
Cancelled for the 2021 summer season. Please sign up for another team!
Find out more about aquatic teams.
EXTENDED HOURS - August 9th-September 5th
Lap Swim (weekends)

Open Swim (weekends)

EXTENDED HOURS      

August 9th-September 5th

12:30 - 2:30                        

3:00 - 5:00

EXTENDED HOURS      

August 9th-September 5th

12:30 - 2:30                        

3:00 - 5:00