Rio Grande Pool
Information about Rio Grande Pool.
Rio Grande Pool Info
1410 Iron Avenue SW
Albuquerque, NM 87102
Map
Directions: Just north of the ABQ BioPark Zoo, on Iron SW and east of Tingley Beach.
Phone: (505) 768-4928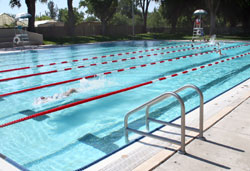 Rio Grande Pool
Rio Grande Pool is a 25-meter shallow outdoor pool.
Lap Swim Procedures to change starting Monday, June 1. Learn More!
Admission & Holidays
See our swimming pool fees.
Swim Lessons
Find out more about swim lessons.
Aquatic Team
Find out more about aquatic teams.
EXTENDED HOURS August 9th-September 11th   

Lap Swim (M-F

Open Swim (M-F

Lap Swim (weekends

Open Swim (weekends

EXTENDED HOURS      

August 9th-September 11th

11:00-12:00

12:30-2:30

3:00-5:00

 

EXTENDED HOURS      

August 9th-September 11th

5:30-7:30 PM

 

 

 

EXTENDED HOURS      

August 9th-September 11th

12:00-2:00

2:30-4:30

 

 

EXTENDED HOURS      

August 9th-September 11th

12:00-2:00

2:30-4:30

 

 
Click here for swimming lessons