Valley Pool
Information about Valley Pool.
Valley Pool Info
Location:
1505 Candelaria Road NW
Albuquerque, NM 87107
View Map.
Directions: From Candelaria between 12th Street and Rio Grande, turn into the Valley High School parking lot. Pool is on the west side of the parking lot.
Phone: (505) 768-5349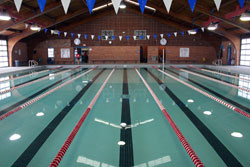 Valley Pool
A 25-yard swimming pool with two 1-meter diving boards and an outdoor wading pool.
Year-Round Enjoyment
Valley Pool is one of three public pools operated by the City of Albuquerque used in conjunction with Albuquerque Public School events.
Valley is available to school students and athletes, as well as the public.
Children under 10 must be accompanied by a responsible adult.
Children ages 8 and under must be supervised by an adult at all times while in the water. Therefore, they both need to be in the water.
Renovations
Valley Pool underwent renovations in 2007. This pool uses solar power to keep is water warm and save energy costs.
Valley also uses UV to help keep the water clean and void of contaminates.
Swimming Lessons
Swimming lessons are offered in the fall, spring, and summer at Valley.
Learn more about Swimming Lessons.
Aquatic Team
Summer Schedule May 28th - August 7, 2022
Lap Swim (M-F)

Open Swim (M-F)

Lap Swim (weekends)

Open Swim (weekends)

Swim Lessons

Water Exercise

Swim Team (Mon-Fri)

Monday - Friday

6:00 – 8:00 a.m.

Monday - Thursday

6:30­-7:30 p.m.

Monday - Friday

11:30AM - 4:00 p.m.

Monday - Thursday

7:30 – 8:30 p.m.

Fridays

6:00 – 8:30 p.m.

 

 

12:00 – 1:00 p.m.

 

1:00 – 5:00 p.m.

Lap Lanes Available

 

Sessions 1 – 4

Morning and Evening

Aerobics

6:30 – 7:30 p.m. (Monday-Thursday)

Deep Water Tuesday and Thursday

6:30-7:30 p.m.

Metro Aquatic Team June 6

4:00 – 4:55 p.m.

Water Polo: At Sunport

Monday, Wednesday, Friday 11:15 – 12:15 a.m.

Metro Diving 5:00-6:00 p.m.
 All City of Albuquerque pools Closed July 9 for Summer Lifeguard Games