Highland Pool
Highland Pool Info
 Location:
400 Jackson SE
Albuquerque, NM 87108
View map
Directions: San Mateo SE between Zuni and Central, across the street from Wal-Mart.
Phone: 505-768-3940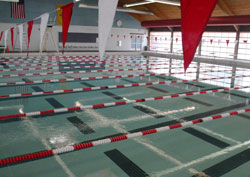 Highland Pool
An Albuquerque Favorite
Pool visits will not require reservations throughout the fall unless public health order requires reduced capacities Learn More!
Highland Pool is an indoor 25-meter by 25-yard swimming pool with a 3-meter and 1-meter diving board and an outdoor wading pool.
Children under 10 must be accompanied by a responsible adult.
Children ages 8 and under must be supervised by an adult at all times while in the water. Therefore, they both need to be in the water.
Year-Round Enjoyment
Highland Pool is one of three public pools operated by the City of Albuquerque used in conjunction with Albuquerque Public School events.
Highland Pool is available to school students and athletes, as well as the public.
Aquatic Team
Highland pool does not have a summer swim team.
APS School Year Schedule
Evening times will change during High School Swim Season (October 30 - February 16)
Lap Swim (weekdays)
Open Swim (weekdays)
Lap Swim (weekends)
Open Swim (weekends)

6:00 – 9:00 AM
(APS P.E. may also be using the pool from 8 to 9)


11:30 AM - 1:30 PM
(APS P.E. may also be using the pool from 1:00 to 1:30)


6:00 – 8:00 PM
Lanes 1-9 Open for laps

6:00 - 8:00 PM
Rec Swim in lanes 10 and 11 (shallow lanes)

12:00 - 1:00 PM

1:00 – 4:00 PM
Diving boards will open at 1:00

 
View our School Year Schedule Here (Begins July 31, 2023)