West Mesa Aquatic Center
Information about West Mesa Aquatic Center. Wristband Policy is back in place for recreational swimming. Wristbands available for purchase starting Mon-Fri at 5:30am, Saturday & Sunday at 11:00am. Indoor pool and diving boards are open sessions 1 & 2 and all sessions on Fridays. Outdoor pool only for session 3 Mon-Thu.
West
Mesa

Aquatic Center Info

Location
6705 Fortuna NW
Albuquerque, NM 87121
View map.

Phone - 505-836-8718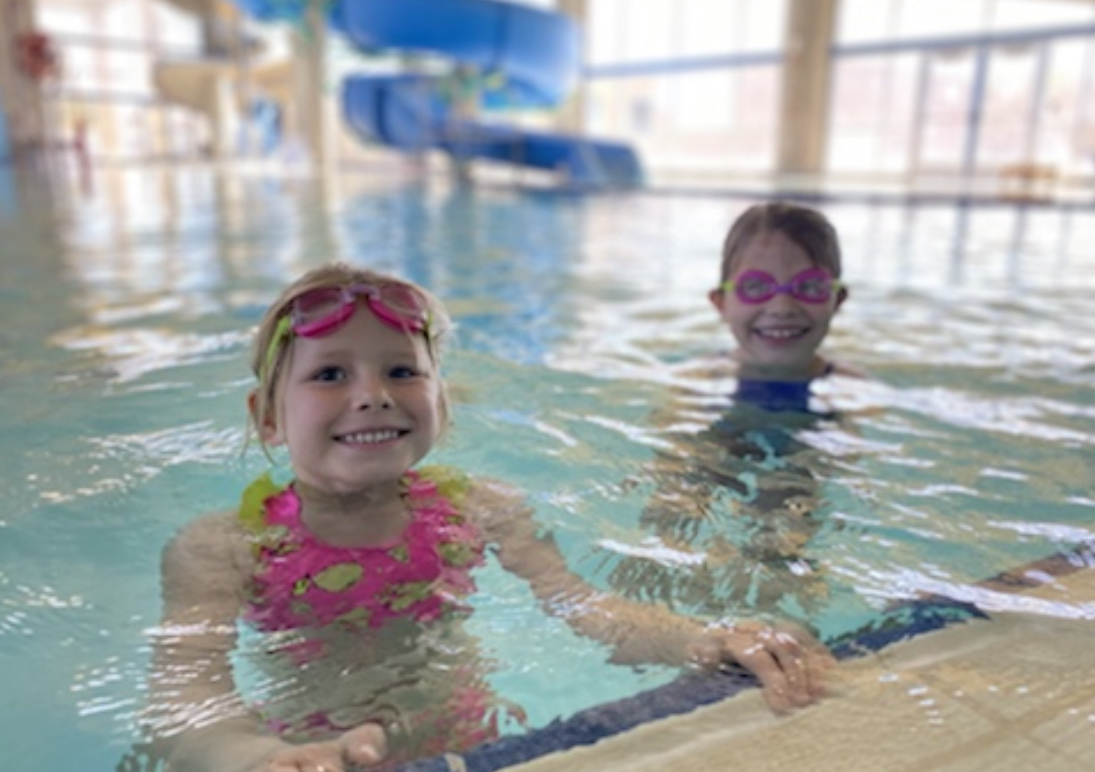 West Mesa Indoor Slide Pool
Holiday Schedule
View admission fees and holiday hours at West Mesa.
View special events and closures.
Something for Everyone
West Mesa Aquatic Center is the site of the City's newest Olympic pool.
This is an excellent pool for lap swimming, recreational swimming, exercise classes, swim meets — stadium seating to accommodate 800 spectators — and other activities.
Olympic Features
The pool can be set for eight 50-meter lanes or two-dozen 25-yard lanes.
The pool also has two 1-meter diving boards and a 3-meter diving board.
Indoor & Outdoor Slide Pools
The West Mesa Aquatic Center also features an indoor recreation pool that has a tower water slide with beach-like zero-slope design. It is handicap accessible and great for birthday parties.
The outdoor pool is larger than the indoor pool and has two water slides.
Children
Children younger than 10 must be accompanied by a responsible adult. Children ages 8 and under must be supervised by an adult at all times while in the water. Therefore, they both need to be in the water.
West
Mesa

Aquatic Center Hours

The West Mesa Aquatic Center will be using wristbands this summer season for entry into the pool. Wristbands available to purchase at the pool as early as 5:30 a.m. on weekdays and 11 a.m. on weekends.  When the shift starts, patrons with wristbands can come right into the facility through the main entrance on the south side of the facility. Wristbands are also available for purchase online up to 2 days in advance. If you purchase wristbands online, please visit the Aquatics Aide at the front desk prior to the start of the shift for your reserved wristbands.  If you are a passholder, you are still required to have a wristband; the pass simply allows you to collect a wristband for free. All patrons require a wristband for entry, regardless of whether they are swimming. All patrons will be asked to leave the facility between shifts to allow time to clean and allow new patrons to queue and enjoy the pool. A set number of wristbands will be available based on bather load limits from the current health code. 

 
APS School Year Schedule - July 31 through May 31
**Evening times will change during High School Swim Season (November 6 - February 23)
View our School Year Schedule Here (Begins July 31, 2023)
Lap Swim (weekdays)
Open Swim (weekdays)
Lap Swim (weekends)
Open Swim (weekends)
Water Exercise

5:30 AM – 8:00 AM

9:00 AM - 10:00 AM (limited lanes)

11:30 AM – 1:30 PM (M,W, F)

6:00 – 8:00 PM 



**6:45 - 8 P.M (limited lanes)

 

 

 

 

 

 

6:00 PM - 8:00 PM
Diving boards open Tuesday and Friday only

**6:00 - 8:00 P.M. (Indoor slide pool only)


Starting November 1, 2023
Indoor Slide Pool Closed Wednesdays

12:00 PM – 2:30 PM

3:00 PM - 5:00 PM
(Some days may be closed due to events)










12:00 PM – 2:30 PM

3:00 PM - 5:00 PM









Aerobics

Monday - Friday

9:00 AM - 10:00 AM

Monday, Tuesday, Thursday

7:00 PM - 8:00 PM








---
List of Renovations to WMAC 2023
WMAC - Completed Projects
Outdoor and Indoor Water Play Features
Indoor and Outdoor Pool Slide Refurbishment
New LCD Scoreboard
Timing System Upgrades
Starting Block Refurbishment
Indoor Play Feature Part Repairs
Indoor Pool and Olympic Restroom Deck Resurface
Olympic Tile Cleaning
Outdoor Pool Plaster Replacement, Deck Resurface, and Hydro Hub Remodel
Thunderdome – Large Floating Play Feature
Classroom Remodel
ADA Chair Lifts
Lounge Chairs/Deck Furniture
New Water Fountains and bottle fillers
New Hand Dryers
New Parking Lot Pavement
Outdoor Pool Shade Structures
Olympic Pool Garage Door Refurbishment
Front lobby ADA door repair
Outdoor Pigeon Exclusion
Indoor Play Feature Part Repairs
Evaporative Cooler Refurbishment
Updated Lighting and Wiring
New Locker Room paint
WMAC - Additional Projects Planned 2023-2024
HVAC Repairs
Gates and Fencing
Exterior Landscaping
Sink and Water Fountain Repair/Replacement
Door repairs
Estimated Total Cost: $1,200,000