Sunport Pool
Information about Sunport Pool.
Sunport Pool Info
2033 Columbia Drive SE
Albuquerque, NM 87106
Map
Phone: (505) 848-1398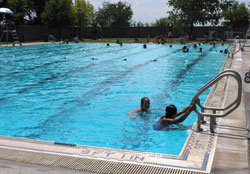 Sunport Pool is a 40-meter-by-22-yard outdoor pool.
Admission & Holidays
See our swimming pool fees.
Swim Lessons
Find out more about swim lessons.
Aquatic Team
Practice is Mondays through Fridays from 10 a.m. to 10:50 a.m.
Find out more about aquatic teams.
Pool Hours
Extended Summer Hours! August 17 - September 29, 2019
Recreation Swim for Everyone
Saturday and Sunday
Noon - 4 p.m.