Sunport Pool
Information about Sunport Pool.
Sunport Pool Info
2033 Columbia Drive SE
Albuquerque, NM 87106
Map
Phone: (505) 848-1398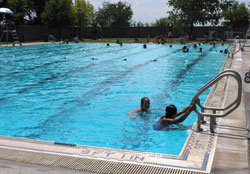 Sunport Pool is a 40-meter-by-22-yard outdoor pool.
Admission & Holidays
See our swimming pool fees.
Swim Lessons
Find out more about swim lessons.
Aquatic Team
Cancelled for the 2020 summer season.
Find out more about aquatic teams.
Pool Hours
May open beginning of July through August 11, 2019
Sunport pool may open during phase II of the State's reopening plan - Pending state's public health orders. Stay tuned for further updates.


Summer Schedule under review