Rio Grande Pool
Information about Rio Grande Pool.
Rio Grande Pool Info
1410 Iron Avenue SW
Albuquerque, NM 87102
Map
Directions: Just north of the ABQ BioPark Zoo, on Iron SW and east of Tingley Beach.
Phone: (505) 848-1397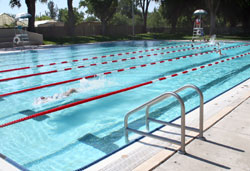 Rio Grande Pool
Rio Grande Pool is a 25-meter shallow outdoor pool.
Admission & Holidays
See our swimming pool fees.
Swim Lessons
Find out more about swim lessons.
Aquatic Team
Practice is Mondays through Fridays from 10 a.m. to 11 a.m.
Find out more about aquatic teams.
Pool Hours
Rio Grande to open early on the weekends starting May 9, 2020

Recreation Swim for Everyone
 Weekend Public Swim Hours       (Lap lanes available upon request)
12 pm - 5 pm
Summer Hours Memorial Day weekend - August 9, 2020

Recreation Swim for Everyone
Weekday Public Swim Hours 
Weekday Lap Swim
Weekend Public Swim Hours                (Lap lanes available upon request)
12 pm - 5 pm
11 pm - 12 pm
12:00 pm - 5:00 pm
5:30 pm - 8:00 pm
 
 
Click here for swimming lessons