Montgomery Pool
Information about Montgomery Pool.
Montgomery Pool Info
5301 Palo Duro NE
Albuquerque, NM 87110
Map
Phone: (505) 888-8123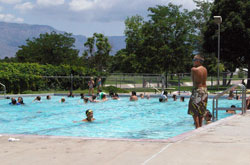 Montgomery Pool
Montgomery Pool is a 25-yard outdoor pool.
Admission & Holidays
 See our swimming pool fees.
Swim Lessons
Pool Hours
Open beginning of July through August 11, 2019
Montgomery pool may open during phase II of the State's reopening plan - Pending state's public health orders. Stay tuned for further updates.


Summer Schedule under review