Lifeguarding Courses
Information on Lifeguard Courses.
Junior Lifeguard Courses
A junior lifeguard course is also available for youth between 11-14 years old.
Learn more about the Junior Lifeguard Course.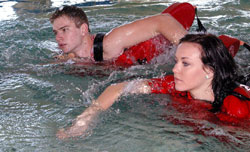 The City of Albuquerque offers the American Red Cross Lifeguard Training Program. The American Red Cross Lifeguarding course teaches a preventive approach to lifeguarding as well as rescue and lifesaving techniques endorsed by the American Red Cross. This course includes Certifications in CPR for the Professional Rescuer and Standard First-Aid. These additional courses are taught in conjunction with the lifeguarding course.
Listed below are the course prerequisites and completion requirements necessary to help you prepare for the American Red Cross Lifeguard Training Course. As an applicant for a lifeguard certificate, you must fulfill each of the following requirements. Exceptions will not be made. Your instructor will elaborate on these during the first day of class or you may call the pool manager prior to the class. Please note that practice during this course requires strenuous activity. If you have a medical condition or disability that might prevent you from taking part in practice sessions, you should discuss it with your physician and your instructor.
Before Class Starts
You must register for the course prior to the first day of class. The fee is $50.00.
You must download the American Red Cross Lifeguarding manual and purchase a resuscitation mask. The book can be found here: Red Cross Lifeguard Manual. The mask is $15 and available at the facility where the course is being held.
You must be at least 15 years old by the last scheduled date of the class in order to enroll.
First Day of Class
Bring a swimsuit and a towel.
Swim 300 yards continuously demonstrating breath control and rhythmic breathing. Candidates may swim using the front crawl, breaststroke or a combination of both but swimming on the back or side is not allowed. Goggles may be used.
Starting in the water, swim 20 yards using front crawl or breaststroke, surface dive 7 – 10 feet, retrieve a 10–pound object, return to the surface, swim 20 yards back to the starting point with the object and exit the water without using a ladder or steps, within 1 minute, 40 seconds.
Tread water for 2 minutes using only the legs.
To Successfully Complete the Class
You must attend and be on time for every session. The total course time is approximately 24 hours. At the instructor's discretion, additional hours may be scheduled for practice and review or to make up canceled classes due to weather or unforeseen circumstances.
You must pass all in-water lifeguard skills and activities.
You must demonstrate competency in all First Aid, CPR, AED, and lifeguard skills and activities.
You must pass the written test with at least 80% on each section. There are 2 sections to test.
Upon Completion
You will receive:
An American Red Cross Universal Certificate for Lifeguarding / First Aid / CPR / AED valid for 2 years.
Signing Up
Please sign up online by clicking here; if we don't have enough participants before the first day of class the class may be canceled, so sign up early!
 
** Some of these are blended learning courses, which means you must sign up early and complete an online training before the first day of class. The online portion takes approximately 7 hours to complete and includes 1 test that must be passed! You will receive the link to the course when you sign up with the cashier.
Location
Dates, Days, Times
Highland Pool (505) 256-2096

| | | |
| --- | --- | --- |
| Dec. 26 - 28, 2019 | Thursday - Saturday | 8 a.m. - 4 p.m. |
| January 27 - February 8, 2020 | Monday Tuesday Thursday | 4 p.m. - 8 p.m. |
| February 24 - March 5, 2020 | Monday Wednesday Thursday | 4 p.m. - 8 p.m. |
| March 30 - April 3, 2020 | Monday - Friday | 9 a.m. - 4 p.m. |
| April 6 - 17, 2020 | Monday Tuesday Thursday | 4 p.m. - 8 p.m. |
| April 27 - May 7, 2020 | Monday - Thursday | 4 p.m. - 8 p.m. |

Betsy Patterson Pool at Sandia High School  (505) 275-6278

| | | |
| --- | --- | --- |
| Dec. 26-29 2019 (APS and UNM Winter Break) | Thursday - Sunday | 9 a.m. - 4 p.m. |
| February 4 - 20, 2020 | Tuesday Thursday | 4 p.m. - 8 p.m. |
| March 16th - March 20th | Monday - Friday | 9 a.m. - 3 p.m. |
| March 30th - April 2nd | Monday - Thursday | 9 a.m. - 3 p.m. |
| April 13th - April 23rd | Tuesday Thursday | 4 p.m. - 8 p.m. |

Valley Pool (505) 768-5349

| | | |
| --- | --- | --- |
| January 2 - 4, 2020 | Thursday - Saturday | 8 a.m. - 4p.m. |
| January 11 - 13, 2020 | Saturday - Monday | 8 a.m. - 4 p.m. |
| March 12 - 15, 2020 | Thursday - Sunday | 8 a.m. - 4 p.m. |
| March 30 - April 3, 2020 | Monday - Friday | 4 p.m. - 8 p.m. |
| May 4 - 8, 2020 | Monday - Friday | 4 p.m. - 8 p.m. |

West Mesa Aquatic Center (505) 836-8718

| | | |
| --- | --- | --- |
| February 24th- March 4th 2020 | Monday - Thursday | 4 p.m. - 8 p.m. |
| March 9th - March 19th | Monday - Thursday | 4 p.m. - 8 p.m. |
| March 30th - April 2nd | Monday - Thursday | 9 a.m. - 4 p.m. |
| April 13th - April 23rd | Monday - Thursday | 4 p.m. - 8 p.m. |
| April 27th - May 7th | Monday - Thursday | 4 p.m. - 8 p.m. |