Junior Lifeguard Course
Information on the Junior Lifeguard Course.
Junior Lifeguard Information
For more information please contact:
Derrik Bentz
Email: [email protected]
Telephone: 505-761-4086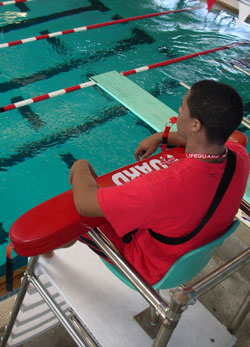 This program is directed toward youth between the ages of 11-14 years old. Candidates will be given the opportunity to develop teamwork and leadership, increase swimming skills, perform rescue techniques, and understand responsibilities of aquatic personnel and first responders.
We are offering a spring break class this year! Classes will be held at all five indoor pools throughout Albuquerque.
Program Objective
To provide the youth of our community with a sound aquatic background and introduce them to the City of Albuquerque's lifeguard program. Along with lifeguard physical training they will be trained to act in emergency situations and get an introduction to rescue skills/CPR. We will also offer career development to those who are interested in pursuing future employment as a lifeguard with the City of Albuquerque.
General
Classes will be held at designated pools only.  The cost is $35 for the course, and is approximately 6-8 hours long.  This course is a combination of instructional sessions conducted on the pool deck, and in the water. Participants should bring their swimsuit, towels, and goggles if needed. 
Skill Level
All participants must be able to perform various skills in order to participate in this class. The following skills will be tested out the first day of class:
Swim 100 yards non-stop (four lengths of the pool)
Tread water for two minutes
Swim underwater for 10 feet
Class Times/Locations
To register, please go to play.cabq.gov. Here is the direct link