Gabriel Garcia Aug. 28, 2021
Information about the homicide investigation.
About the Victim
Case Status: Open
Case #: 210067945 
Location of Incident: 500 Tennessee St NE #4
Incident Details
On August 28, 2021 at approximately 00:56 hours, there were two shotspotter registries, first one was for 21 shots fired and the second for 24 shots fired in the area of 500 Tennessee St NE. Officers arrived on scene and discovered numerous casings on Tennessee St. Officers then discovered numerous impacts holes in the apartment complex located on 500 Tennessee St. NE. Officers then made welfare checks on the tenants and discovered a deceased male in Apartment #4. Rescue was started and concluded the male deceased and did not transport. There was another male subject from the scene that made his way to the hospital before officers arrived. This male subject did sustain wounds but is in stable condition.
Meet the detectives working to solve this case.
If You Have Information
If you have information about this, or any other case, please contact Crime Stoppers. Crime Stoppers will never ask for your name and you will remain completely anonymous. The phone line is not recorded, nor is it connected to any caller ID device.
Call 911 for an emergency or a crime in progress.
Call (505) 843-STOP (7867)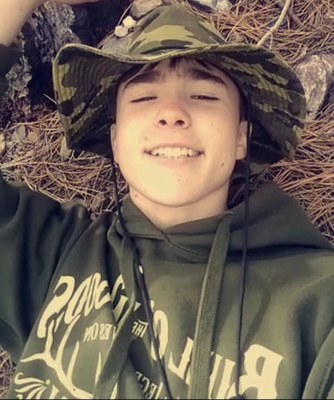 Family Story
When I sit here and ponder what to write it doesn't make sense that I'm even here to write this. It seems so unreal and so unfair. No parent should ever be in this position. All due to some senseless act of stupidity.
I have so many things to say about my one and only son because he was absolutely amazing. Gabriel was smart, good at anything he did, he was funny , a dang good prankster that could hold the straightest poker face I ever saw. Most of all Gabriel loved JESUS. He filled our lives with so much joy.I will forever miss his Great big smile and his contagious laugh, I can hear it every time I close my eyes. Gabriel was one heck of a fisherman and a great hunter. He loved the outdoors.

Gabe loved sports he played Football, Basketball, Track and field. Gabriel attended Elementary in Albuquerque at Sandia Base Elementary, Middle school at Mountainair junior high school, and high school at Mountainair High school where he would have been a Senior! Class of 2023! Gabriel found his family in Mountainair. His teammates, classmates, and teachers are all family to Gabe. They all helped raise him and it took a Village but there was not one person who didn't love Gabe! We never get to see him walk the line!! If you knew how smart Gabe was you know he should be walking the line this year. I try to not lean on my own understanding! Jesus has promised me I will see him again, and I truly believe that I will see him, what I don't understand is how someone could do something like this. Gabe was everybody's friend he didn't care where you came from, what you wore he just loved you he was the kind of heart that people just fell in love with.

He loved his Family like no other, His family loved him more than anything in this world Gabe was survived by his mom Natasha Stepdad Joaquin, Step brothers Joaquin jr. and Antonio, Aunt Ashley, Cousin Jeremiah and Heaven, Grandpa Terry, and his Grandma April and many many more to many to list. Gabe had many many friends that loved him