Document Actions
Quick Links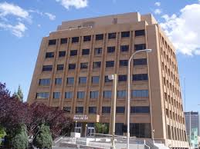 The Albuquerque Planning Department provides a full range of services from processing building permits to developing long range, regional plans and policies. The department also houses several quasi-judicial boards and commissions.
Planning Department Location
Plaza del Sol, 600 Second NW, Albuquerque, NM 87102
Mailing address: P.O. Box 1293, Albuquerque, N.M. 87103
Telephone: (505) 924-3860
Business hours: Monday - Friday, 8:00 a.m. to 5:00 p.m.
Notices

Comprehensive Plan Update & Unified Development Ordinance. The Planning Department is pleased to kick off a major public process to update the Comprehensive Plan and create a Unified Development Ordinance.  The City has hired a consultant team, led by Clarion Associates, to improve the regulatory system guiding land use development and transportation planning citywide, including major updates to the Zoning Code and Development Process Manual. Please join us for a kick off meeting on Wednesday, February 4, 2015 from 6-7:30 pm at the Albuquerque Convention Center. Please visit the project webpage to confirm the schedule and RSVP for events.  If you have questions, please contact Mikaela Renz-Whitmore (505) 924-3932 or

[email protected]

.
ZHE - Notice of date change for the Zoning Hearing Examiner Hearing from TUESDAY, JANUARY 20, 2015 TO FRIDAY, JANUARY 23, 2015, 9:00 A.M.  More...
Project #1001620, 14EPC-40070 :  Proposed Text Amendments to the Zoning Code At its regularly scheduled public hearing on December 11, 2014, the Environmental Planning Commission (EPC) will consider text amendments to Zoning Code Section 14-16-3-5, General Sign Regulations, and other text amendments (if any) needed to create internal consistency in the Zoning Code. The proposed text amendments would apply City-wide. The proposed text amendments would allow existing signs (billboards), within 660 feet of the right-of-way of Interstate 40 and within 660 feet of the right-of-way of Interstate 25, to become electronic signs (billboards) without forfeiting their status as lawful, non-conforming signs. The proposed bill (O-14-25) can be found by searching for it at:   https://cabq.legistar.com/Legislation.aspx Please contact Catalina Lehner-AICP, Senior Planner, at (505) 924-3935 or

[email protected]

for more information. Please submit any comments to her no later than December 2, 2014.
Update to the Coors Corridor Plan - The Environmental Planning Commission recommended approval on Thursday, January 8, 2015. For more information go to Coors Corridor Plan page or contact: Carol Toffaleti (505) 924-3345 or

[email protected]

. (Posted January 14, 2015)
Bikeways & Trails Facility Plan - On October 9, 2014, the Environmental Planning Commission unanimously voted to recommend approval of the Bikeways & Trails Facility Plan to City Council. The second Council hearing at the Land Use, Planning, and Zoning Subcommittee (LUPZ) is scheduled for January 14, 2015. For more information see the City Council project information page or contact Carrie Barkhurst at (505) 924-3879 or

[email protected]

. (Posted December 1, 2014)
Neighborhood News - The current edition has been posted.  As per the June/July 2014 edition of the Neighborhood News, page 10, the newsletter will no longer be mailed.  The current newsletter and archived editions can be found here.
Requests for Proposals
Applications, Permits & Fees
Useful Links
Meetings, News & Notices
Ladera Golf Course is home to the To'Hajiilee Summer Junior Golf Program,
Fall and Spring Swim lessons are offered at West Mesa Aquatic Center and Sandia Pool. Classes are divided by age and skill level.
Read more about Tennis Lessons through the City's Parks and Recreation Department.