Rock Climbing Wall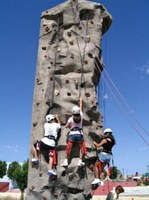 Rock Climbing Wall
Push yourself to the limit as you attempt to conquer the incredible 25 foot massive rock. The climbing wall has easy, moderate, and hard routes that will challenge you to do your best.
Description
The Outdoor Recreation Section of the Parks and Recreation Department operate a portable climbing wall that can travel within the greater Albuquerque area. We have auto and manual belay systems that can accommodate up to four climbers at once. This is a learning experience designed to introduce the sport of climbing. We stress the importance of The Outdoor Recreation Section's service theme which includes self-reliance, safety, team work, and trust.
Scheduling and Details
The use of the climbing wall is for people who want to participate in an introduction to climbing. Users must have at least 25 climbers participating. Users can not charge or profit financially from the use of the climbing wall. The climbing wall is best utilized by schools, youth groups or other learning organizations. All participants must be taller than 43" and under 300 lbs.
The climbing wall can not be used for private parties or events where funds are being collected for any cause, however local businesses are available in the Albuquerque area to rent climbing walls for events of this nature for a fee.
The climbing wall is transported by a trailer which is 30' long, and is pulled by a 20' long truck.  Due to the size of the vehicle, there must be at least 60 feet long by 20 feet wide of a level surface in order to navigate and park the climbing wall on your site. We are not able to drive over curbs or park on the grass area of a City park.
Rental Costs
Non-Profits: $100 per four hours
For Profit: $500 per four hours
Contact
Reservations & Information call Outdoor Recreation:  (505) 768-5328