Twinkle Light Parade
Twinkling all the way!

Saturday, December 2, 2023 | 5:15 p.m. | Nob Hill 
The Twinkle Light Parade is almost here! This is a free, family-friendly holiday event that illuminates a mile-long stretch on Route 66 in Nob Hill. Local businesses, community and school groups, and a variety of Albuquerque organizations come together to present an exciting event that brings a sparkle to all. 
Shop local! Central Ave. will close to traffic starting at 3 p.m. giving shoppers the freedom to get holiday shopping done at a variety of stores or eat at restaurants in Nob Hill. Plan to arrive early, shop, then grab your spot to view the Twinkle Light Parade as it will dazzle thousands of spectators. 
Applications to participate in the 2023 Twinkle Light Parade are now closed.

Watch the Parade
The Twinkle Light Parade will roll west on Central Ave. through Nob Hill from Washington St. to Girard Blvd.
Can't make it to the event in person? No worries! We've got you covered with multiple streaming and broadcast options to ensure you don't miss a moment of the magic.
Comcast Channels- Tune in to Public Access Channel 27 and One Albuquerque Media Channel 16 on Comcast to watch the parade from the comfort of your home. 
Online Streaming- Visit studio519.com or KOAT.com to stream the Twinkle Light Parade live from your computer or mobile device.
The Very Local App- Download the Very Local App and enjoy the parade's festive atmosphere from wherever you are.
Free Park & Ride
Free parking will be available at the parking lot located on the southwest corner of Lomas Blvd. and University Blvd. (View Map) 
Buses will start at 3 p.m. from the lot to Johnson Field throughout the event until 10:30 p.m. It's an easy way to skip the traffic. 
Nob Hill Parking 
Please be aware of and obey all posted street parking signs. Do not block Nob Hill residents' driveways and access to their homes. The free provided Park & Ride is the preferred option for this event. There are a variety of paid parking lots in the area. 
Central Ave. will be closed between Girard Blvd. and San Mateo Blvd. There will not be a way to cross Central Ave. Plan ahead and get there early. 
Restroom Locations 
Central Ave. and Adams St. 
Central Ave. and Sierra Dr.
Central Ave. and Hermosa Dr.
Central Ave. and Bryn Mawr Dr.
Central Ave. and Dartmouth Dr.
Twinkling Together as a Community
Did you know that this holiday parade consists of your favorite businesses, school groups, non-profits, and neighbors? The parade averages 4,000 people in the parade with 260 vehicles. Twinkly entries include trucks and trailers, cement mixers, box trucks, buses, marching bands, ambulances, firetrucks, dance groups, athletic teams, show vehicles, and more!  
The entries that comprise the Twinkle Light Parade are hard working groups that take twinkling very seriously. Yes, it's a competition but the people who put the time and effort into creating an illuminated entry do it because they love doing it for the community.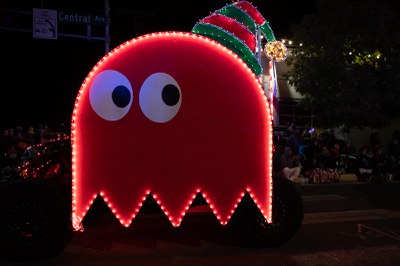 The Twinkle Light Parade is free for the public to attend and is a rain or shine event. Well behaved, leashed pets are welcome. Fire pits are not allowed. 
---
Thank you to our sponsors! 
---
Let's Get Social!