Twinkle Light Parade
Twinkling all the way!

Saturday, December 3, 2022 | 5:15 p.m. | Nob Hill 
The time has finally come, the Twinkle Light Parade is here! This is a free, family-friendly holiday event that illuminates a mile-long stretch on Route 66 in Nob Hill. Local businesses, community and school groups, and a variety of Albuquerque organizations come together to present an exciting event that brings a sparkle to all. 
Shop local! Central Ave. will close to traffic starting at 3 p.m. giving shoppers the freedom to get holiday shopping done at a variety of stores or eat at restaurants in Nob Hill. Plan to arrive early, shop, then grab your spot to view the Twinkle Light Parade as it will dazzle thousands of spectators. 
Watch the Parade
The Twinkle Light Parade will roll west on Central Ave. through Nob Hill from Washington St. to Girard Blvd. The parade will be judged by Byron Morton and Sasha Lenninger from KOAT Action 7 News, Jackie, Tony and Ryan from 100.3 The Peak, and Jessica Garate from KRQE from the stage near Morningside Dr. on Central Ave. The entries will be categorically scored on Creativity, Holiday Spirit, Twinkliness, and Wow Factor. 
This year the Carpenter's Union will be giving Santa a ride through the parade route. Jolly Ol' St. Nick will be leading Santa's Cruise straight from the North Pole. The Cruise consists of local car clubs to make sure Father Christmas always rides in style. 
Stay Warm & Support Local 
This year the official Hot Chocolate Sponsor for the Twinkle Light Parade is The Chocolate Dude. Cozy up to a warm cup of hot cocoa on parade night and throughout the holiday season as you do your holiday shopping in Nob Hill. 
Free Park & Ride
Free parking will be available at the parking lot located on the southwest corner of Lomas Blvd. and University Blvd. (View Map) 
Buses will run from 3 p.m. from the lot to Johnson Field throughout the event until 10:30 p.m. It's an easy way to skip the traffic.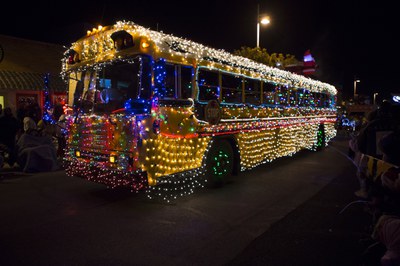 Event Details
The Albuquerque Twinkle Light Parade is free for the public to attend and is a rain or shine event. Please be aware of and obey all posted street parking signs. Do not block Nob Hill residents' driveways and access to their homes. The free provided Park & Ride is the preferred option for this event. Well behaved, leashed pets are welcome. 
Public restrooms will be available at the following locations:
Central Ave. & Adams St. 
Central Ave. & Sierra Dr. 
Central Ave. & Hermosa Dr. 
Central Ave. & Bryn Mawr Dr. 
Central Ave. & Dartmouth Dr. 
The deadline to apply to participate was Tuesday, November 1 at 5 p.m.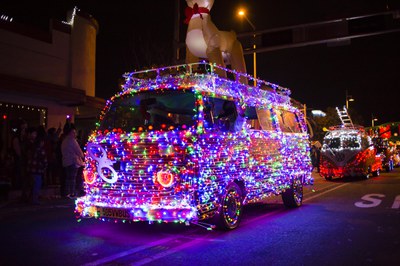 Twinkling Together as a Community
Did you know that this holiday parade consists of your favorite businesses, school groups, non-profits, and neighbors? This year over 4,000 people are in the parade with 260 vehicles. Twinkly entries include trucks and trailers, cement mixers, box trucks, buses, marching bands, ambulances, firetrucks, dance groups, athletic teams, show vehicles, and more!  
The entries that comprise the Twinkle Light Parade are hard working groups that take twinkling very seriously. Yes, it's a competition but the people who put the time and effort into creating an illuminated entry do it because they love doing it for the community. This is a list of every participating entry for the 2022 Twinkle Light Parade. Thank you to everyone involved in making this the best and brightest Albuquerque parade! 
1 Call Mechanical LLC, ABOA Albuquerque Basketball Sponsored by Creative Landscaping, ABQ Ride, ACE Leadership High School, Albuquerque Ambulance, Albuquerque Community Safety Department, Albuquerque Fire Rescue, Albuquerque Gravel Products, Albuquerque High Coed Cheer, Albuquerque High School Color Guard, Albuquerque Journal, Albuquerque Police Department, Albuquerque Preschool Co-Operative, AMR Ambulance, APD Honor Guard, APD Horse Mounted Unit, APS Human Resources Department, Atrisco Heritage High School Band, Base Construction, Bates Premier Taekwondo, Belen High School NJROTC, Bernalillo County Behavioral Health, Bike ABQ, Brandon Chavez, Brandon McFatridge Agency -Farmers Insurance, Care Net Pregnancy Centers of ABQ, Caterpillar Clubhouse Daycare, Children's Promise Center, COA- Community Recreation & Educational Initiatives, Coldwell Banker Legacy, Community Health Worker Initiatives, Dalkia Energy Solutions, Dance in Motion, Department of Senior Affairs, Dezert Dogz Buggy Club, Drifters Car Club, Drop & Fill LLC, Duke City Cares- Your Medical Family, Duke City Classics, Duke City Readi-Mix, Elite Roofing Supply, Elks Lodge, Encantada, The Band of Enchantment, Enterprise, Family Life Radio 91.5 FM, Girl Scout Troop 10574, Girl Scout Troop 10647,Girl Scout Troop 11655,Girl Scouts of NM Trails Service Unit #154, Grupo Folklorico Desoluna, Hazardous Truckin, Highclass Car Club, Highland High School, Jennifleurs Flower Truck, Job's Daughters International, Jose Padilla, Joseph Garcia, Kit Carson Elementary School, La Luz del Mundo Church, Los Burros,Manzano High School Cheer and Dance, Marie M. Hughes Elementary School, MAS Charter School, Mayor's Office, Metropolitan Detention Center, Michelle Maes, Mission Elementary School, Musical Theatre Southwest, National Championship Sports, National Protection Personnel, New Mexico Carpenters Union, New Mexico Orthopedics, NM Bolts, NM Cinderella Pageant, NM Crusaders for Justice, NM Interscholastic Cycling League, NM Shriners, No Boundaries & Friends, Pajarito Elementary School, Pat Cordero, Perfection Heating , Cooling & Plumbing LLC., Poco Quatro Model A Car Club, Public Service Company of New Mexico, Rick's Electric Co., Ridgeview Roofing and Restoration, Rise Up Dance Company, Roadrunner Food Bank, Robert Chavez, Rt. 66 ACVW, Rubio Car Club, Sabbath Ministries, Sandia High School, Sandia High School Peer Helpers, Shephard Lutheran School, Shirley Gonzales, Skate- O- Mania, St. Mark's in the Valley Day School, Stan Gillespie, Strolling Low Car Club, The Boyz Car Club, The Clise Family, The Dominguez Family, The Garcia Family, The Lovato Family, TLC Plumbing HVAC and Electrical, Tour ABQ, Tres Volcanes Community Collaborative Cheer Team, Troop 395/1395, Two Men and a Truck, UNM Truman Health Services, US Army ROTC, USPS, Valley Viking Juniors Cheer Team, Valley Viking Juniors Football Team, Warriors Volleyball Club, Worth Hearing Center, Xplosive Dance, Xternal NM, Zia Infused Wellness, Zia Valley Mechanical, Zippy and the Stargazers.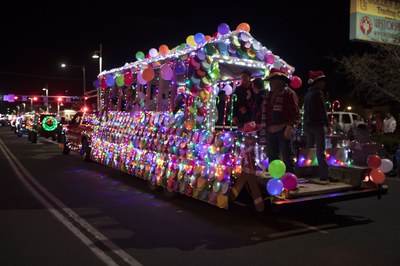 ---
Thank you to our sponsors! 
 
---
Let's Get Social!