Tipping Points for Creatives
Information about Tipping Points for Creatives.
What is Tipping Points for Creatives?
In March 2019, the City of Albuquerque launched the Tipping Points for Creatives initiative, which aims to connect local musicians, visual and performing artists, artisans, and other creative entrepreneurs to resources and services that will help them get to the next level and make a living doing what they love.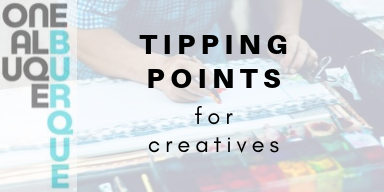 What is the City seeking to achieve?
Through the program we are seeking to:
Better understand the challenges and barriers facing creators as they seek to propel sustainable and thriving artistic practices in Albuquerque, and beyond.
Provide expertise, tools and resources to support artists.
Develop meaningful partnerships with organizations and related entities to provide greater resources to artists.
Create more intentional communities for artists to gather, network and learn from each other as peers.
Determine if there are noteworthy patterns and trends from the many vehicles for data-gathering.
Raise the visibility of the creative economy in Albuquerque.
How is the City going about this?
The City has committed to the following strategic approach:
Supporting the ecosystem with financial investments to partnering organizations. We are supporting our partner organizations so they can reach a larger group of creatives through their proven programs and diverse networks.
Providing resources to artists directly. We recognize that there are opportunities where the City can fill in programmatic and professional development gaps and make non-monetary investments in Albuquerque-based artists, via:

One-on-one resource matching
Larger convenings and new programs (see Ways to Engage below)

Launching a public awareness campaign. This last phase of work is focused on a local and national campaign to raise the visibility of artists, artisans and makers in Albuquerque. We will begin strategic visioning for this effort this winter.
What has happened so far?
The first phase of the program prioritized research & development and prototyping in the following areas:
Surveying. This spring, we invited artists to complete a brief questionnaire in order to better understand their challenges and pain points. We received responses from 528 individuals! Click here to review the top-level findings.
Convening. In May 2019, we held our first Tipping Points for Creatives convening with 13 artists as a pilot. We wanted to test out a holistic leadership process (called The Wise Council) for better refining challenge areas and needs. Two larger convenings took place in November 2019.
Partner and Resource Mapping. The remaining part of the year has been focused on identifying and meeting with current and new partners to find smart ways to resource match creatives and amplify the amazing work happening in Albuquerque.
Who's Involved?
Our current partners include:
Albuquerque Community Foundation
Arts Hub
Coffee + Creatives
City Alive
CNM
Creative Startups
Downtown Arts and Cultural District
Fractured Atlas
Gibbous Creative
Harwood Art Center
Indian Pueblo Cultural Center
Keshet Center for the Arts
McCune Foundation
Media Desk
Tamarind Institute
WESST
Women Leading Change
Pyragraph