University Metropolitan Redevelopment Area Designation and Plan
The Metropolitan Redevelopment Agency (MRA) is considering designating the Central and Yale corridors of the University and Silver Hill neighborhoods as a Metropolitan Redevelopment Area.
Through robust community engagement, the purpose of this project is to create an actionable redevelopment implementation plan that will:
Spur corridor-appropriate development;

 

Establish a business coalition to address concerns and advocate for improvements;

 

Develop partnerships between institutions, businesses, and the neighborhood; and

 

Prioritize key public infrastructure projects.
The majority of the Central Corridor has already been designated as Metropolitan Redevelopment Area. Click here to see the map.  The benefits to becoming a Metropolitan Redevelopment Area include:
Property owners gain access to incentives to spur reinvestment in their property including waiver of City Impact Fees, low-interest environmental remediation loans, and property tax abatement;
The area is eligible for expanded state and federal grant funding;
Additional Metropolitan Redevelopment Area funds may be earmarked for public infrastructure improvements; and
MRA can undertake catalytic public-private partnerships to redevelop publicly owned sites.
There have been many recent planning efforts in your community. There are several things that we want to clear up:
This is

not

associated with the Near Heights Community Planning Area Assessment
This process will

not

change your current land use zoning
This process will

not

result in the City using eminent domain for redevelopment
The first step in the process is to create a Metropolitan Redevelopment Area Designation Report.

 
This report outlines the existing conditions along the Central and Yale corridors. It also specifies the boundary of the Metropolitan Redevelopment Area, which determines what properties will be eligible for MRA incentives. Public comment on the MRA Area Designation Report is due February 17.
Click here to read the Draft Designation Report.
Proposed Boundary Map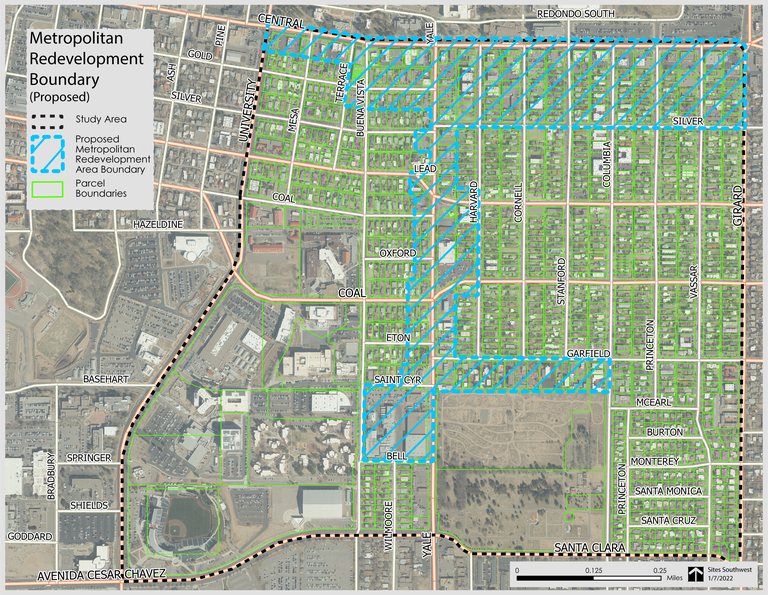 To download a high-quality image and explore the proposed parcels to be included, click here.
Upcoming Opportunities to Learn More and Provide Input
Proposed University Metropolitan Redevelopment Area - Public Meeting: Feb 2, 2022 at 5:30pm via Zoom. Registration is required. Sign up by clicking here. This meeting will review the Designation Report findings, the proposed boundary, and begin collecting input for the Redevelopment Plan. 
Albuquerque Development Commission (ADC) Designation Report Hearing: Wednesday March 17th, 2:00P M – 4:00 PM via Zoom:.
This meeting will consider, among other cases brought to the ADC, the University Metropolitan Redevelopment Area Designation Report. 
Dial-in: +1 669 900 6833 US

Meeting ID: 873 3186 2611
Passcode: 168167
If you cannot join the Public Meeting, you may submit Public Comments to [email protected]. Public Comments will be made available for review at Albuquerque Development Commission and City Council hearings. 
Notice to people with disabilities & those requiring interpretation: If you require special assistance, interpretation, or other have meeting accessibility accommodation needs, please reach out to Ciaran Lithgow ASAP at [email protected].
What's already been done? What's next?

Metropolitan Redevelopment and State Statute
The New Mexico Redevelopment Code (3-60A-1 to 3-60A-48 NMSA 1978) provides New Mexico cities with the powers to correct blighted conditions in areas or neighborhoods, which "substantially inflict or arrest the sound and orderly development" within the city. Designation of a Metropolitan Redevelopment Area must be based on a finding of poor economic and physical conditions, as defined in the New Mexico Metropolitan Redevelopment Code. Examples can include deteriorated structures, defective street layout, faulty lot layout, unsanitary or unsafe conditions, deterioration of site improvements, tax or special assessment delinquency, improper subdivision, lack of adequate housing, impractical planning and platting or low levels of commercial or industrial activity or redevelopment. The Anti-donation Clause of the New Mexico Constitution (Article IX, Section14) prohibits state and local governments to provide public funds that benefit private interests. The New Mexico Redevelopment Code provides an exception to the Anti-donation Clause through the adoption of an MR Plan to allow local government to sell, lease, or dispose of public assets; enter into public/private partnerships; carry out MRA projects; invest in MRA project funds; and issue bonds and/or loans. The New Mexico Redevelopment Code DOES NOT grant a local government the power of eminent domain.