Request for Proposals
Learn more about current and past RFPs from the Metropolitan Redevelopment Agency.
Request for Proposals (RFP)
Central & Alcazar RFP
The Metropolitan Redevelopment Agency (MRA) invites developers to submit Proposals for Projects on MRA-owned land in the Near Heights MR Area located at 7200 Central Ave SE. Proposed projects must include a minimum of 30 new housing units.
In exchange for developing the property, the City will contribute the property to the Developer at "Fair Value" as defined by the NMSA 3-60-A-12. Fair Value considers the community, economic, and social benefits of the planned redevelopment. Fair Value will be determined based on the public good derived from the selected Proposal.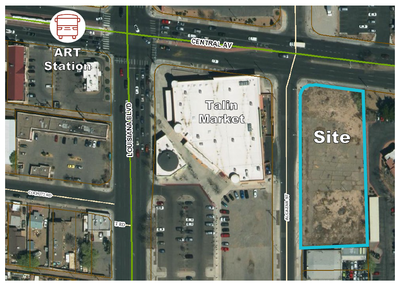 The deadline to submit proposals is August 31, 2023 at 4pm.
---
Canceled: Greater Downtown Housing RFEI #01-2022
The City has canceled this RFEI as of June 27, 2023.
---
Notices of Decision
Metropolitan Redevelopment Agency Appeal Form
Below you'll find notices of decision for recent RFPs: