Annual Report
Read about MRA projects in our Annual Report!
Over the past two decades, the Metropolitan Redevelopment Agency (MRA) has collaborated with local community partners and contributed significant economic impact to Albuquerque's urban core. The MRA's Annual Report is the story of revitalizing the downtown corridor, and summarizes the exciting past, present and future efforts of the agency.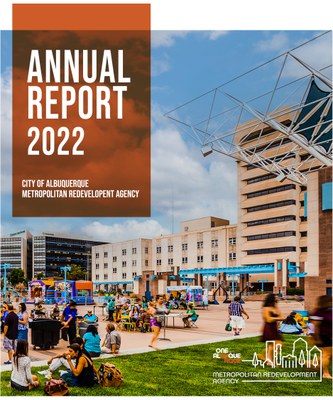 Mission
The MRA's mission is to make Albuquerque competitive in the global market by revitalizing downtown and the Central Avenue corridor, which will lead to collaborative public-private partnerships resulting in catalytic change, investing in sustainable infrastructure, and providing opportunities for local residents and businesses to thrive.
Vision 
The MRA envisions Albuquerque as New Mexico's urban center and the Southwest's premier mid-size city, attracting economic investment and building a healthy and vibrant community that reflects diversity, innovation, rich culture, and unique history. It is a vision of a city that ensures economic prosperity for all residents and where visitors dream to return.
---
2022 Impact at a Glance

---
2022 Completed Projects
The Metropolitan Redevelopment Agency allows us to think big, re-imagine our city, and invest in catalytic projects which positively change our community. These investments lead to thriving, healthy neighborhoods that attract more investment, and create opportunities for local residents and businesses.
Project
Partner
Description
MRA $
Total Project $
Tierra Adentro Charter School
Palindrome
38,000 Sq. Ft. charter school with capacity of 430 students
 $537,000
$8,600,000
Rail Yards Frontage Streetscape
CABQ
Streetscape and landscape improvements from Santa Fe to Hazeldine.  $1.2M EDA Grant
$1,200,000
$2,400,000
E&E - Mountain & 6th Redevelopment
BCSW Properties, LLC
8 residential units including a mural along Sixth Street. 
$30,000
$1,000,000
Broadstone Nob Hill
Titan Development
102‐unit multifamily 
Tax Abatement
$21,500,000
Bueno Foods 
El Encanto, Inc. and Majec, LLC
25,000 Sq.Ft. Freezer Expansion
$295,000
$12,000,000
DT Storefront Grant (Round 1)
Small Businesses (Various)
Storefront grants distributed to businesses opening, relocating to, or expanding within the Downtown core. Grants were a minimum of $30k, $35k for those with evening hours.
$500,000

$500,000

 
---
View Past Annual Reports and Stay Connected!
2021 Annual Report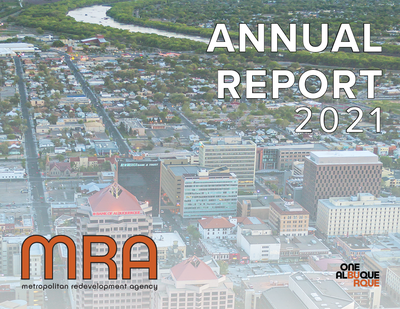 2020 Annual Report