Rail Trail
The proposed Rail Trail will link Albuquerque's vibrant downtown area to nearby neighborhoods, mass transportation options, and the Rail Yards, creating a world class urban amenity that will catalyze redevelopment.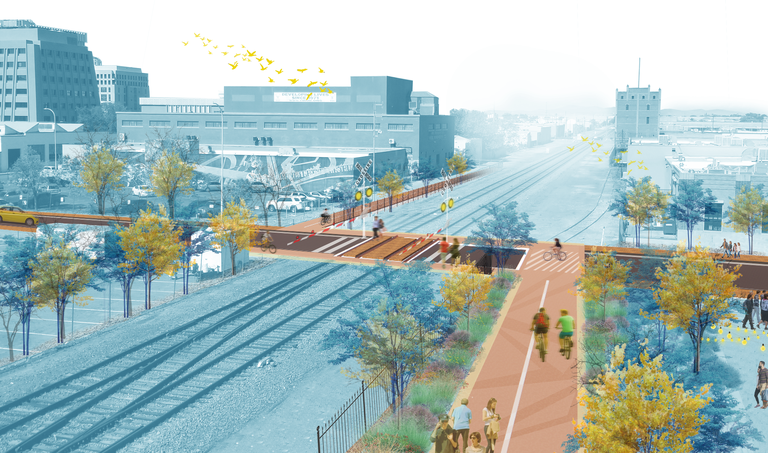 Rail Trail Framework Plan - Draft for Public Comment
The Metropolitan Redevelopment Agency (MRA) is pleased to release the Rail Trail Framework Plan Draft for public comment (12/6/2021). We welcome your feedback! To submit comments, click here. Comments are due by January 31, 2022. In addition to submitting comments related to the Rail Trail Framework Draft Plan, we welcome you to take a brief survey at this link to help the MRA gauge public support, and identify funding priorities for the trail. We are asking everyone to take this second survey - both people who responded to the first survey and those who did not.
VISION: The Albuquerque Rail Trail will transform Downtown's rail corridor into a vibrant and artistic urban trail that creates opportunities for economic development, healthy recreation, and cultural expression. The Trail will connect the diverse communities it travels through and build bridges across those that have been disconnected. Following an ancient path created by footsteps and expanded over centuries by the wheel, the Rail Trail is the next expression of this essential trade route, embracing a resilient future for Downtown Albuquerque.
Rail Trail Framework Plan - Draft for Public Comment
Part I - Executive Summary
Part II - Existing Conditions
Part III - Outreach
Part IV - Technical Analysis
Part V - Art
Part VI - Design Recommendations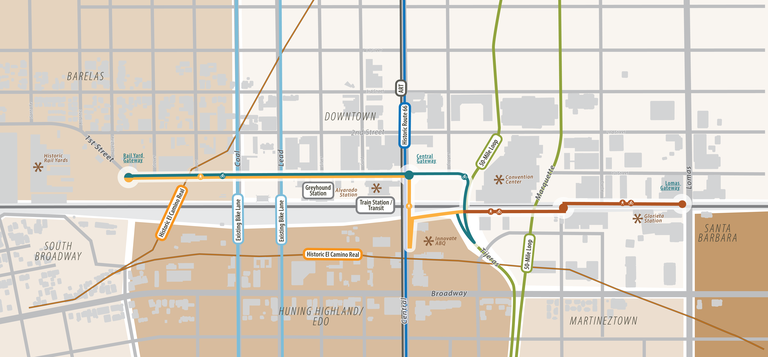 About the Rail Trail
The Rail Trail is a proposed vibrant and artistic urban trail that will revitalize Downtown Albuquerque. The Rail Trail is imagined both as a celebration of Albuquerque's cultural history and a bright vision for our shared future. At the intersection of historic transportation routes such as El Camino Real, Route 66, and the AT&SF Rail Line, the Rail Trail envisions the creation of a localized and convenient multi-modal connection across Downtown.
Through public-private partnerships, the City of Albuquerque seeks to reinvigorate the local economy by providing unique activities along the trail that will draw people to Downtown. The project will link the Downtown core to: 
Nearby neighborhoods
Mass transportation options
The Rail Yards redevelopment site
Employment opportunities
Activity centers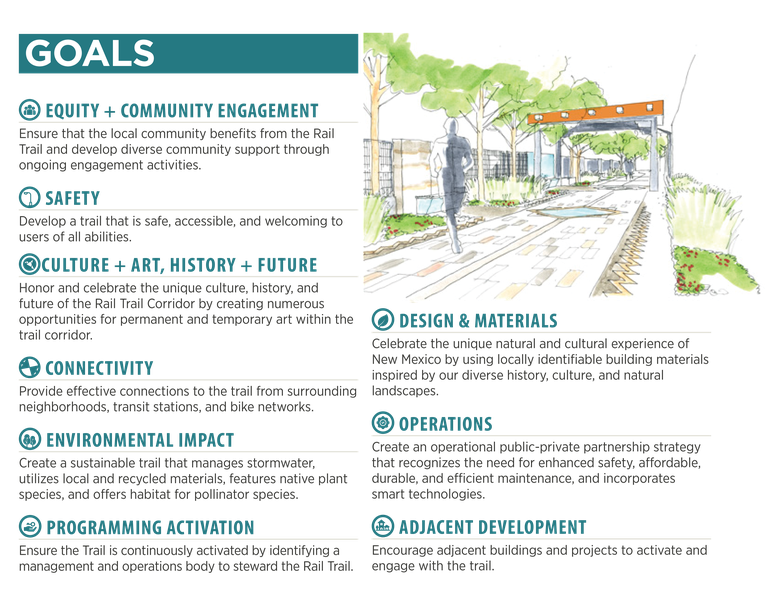 Community Engagement
Rail Trail Public Meeting
In June 2021, the Metropolitan Redevelopment Agency hosted a public engagement meeting at the Rail Yards. With over 100 attendees, valuable feedback was collected from the community, which will be incorporated into the final Rail Trail design.

2021 Rail Trail Survey
In August 2021, the City created a survey to collect public input on the design of the Rail Trail. The survey link was mailed to over 4000 residents and businesses directly surrounding the Rail Trail. The survey was also distributed broadly on social media and email list serves. Respondents were asked their preferences on materials, amenities, and programming. The survey was available in English and Spanish. A total of 455 responses were received. Based on survey results, the most popular elements are highlighted here.
Rail Trail Steering Committee
Members
Mayling Armijo, Bernalillo County Economic Development Director
Dale Armstrong, Property Owner
Lola Bird, Downtown Mainstreet
Dennis Gromelski, FUSION
Ed Garcia, Property Owner
Seth Gardenswartz, Property Owner
Johanna Gillian, Homewise
Maria Griego-Raby, Contract Associates
Frank Martinez, Citizens Information Committee of Martineztown
Tim Nisly, Barelas Community Coalition
Jay Rembe, Property Owner
Sgt. Matthew Tinney, Downtown Public Safety District
Laura Trujillo, Valley Area Command Crime Prevention
Kelly Ward, Innovate ABQ
Richard Yates, Property Owner
---
Submit Feedback
Get involved! Submit your feedback on the Albuquerque Rail Rail Framework Plan today.
Annual Report
Explore the exciting redevelopment projects that are transforming Downtown Albuquerque.
Rail Trail Framework Draft Plan Survey
We want to hear from you! Please take a brief survey to help MRA gauge public support and identify funding priorities for the Rail Trail.