Old Town Portal Market
Support local makers, the Portal is open for business!
About the Old Town Portal
For Program Information
Please contact City of Albuquerque Community Events: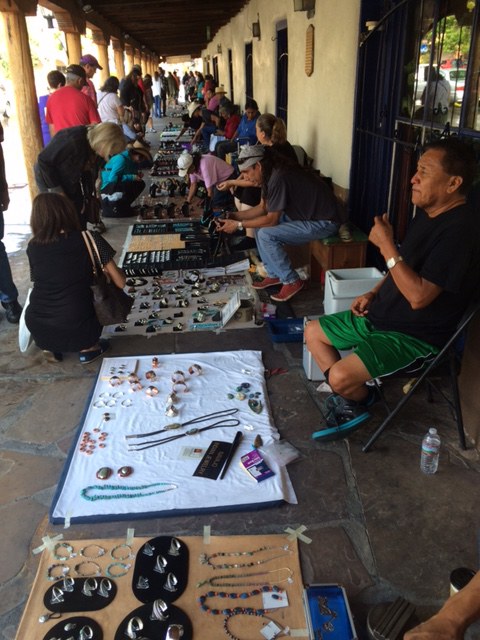 Historic Old Town hosts the Portal Market located on the east side of the Old Town Plaza. The Market serves as an outlet for local artisans to sell their handmade jewelry. Turquoise, a popular New Mexican gem, along with other precious minerals can be found incorporated in bracelets, earrings, and necklaces alike. If you're looking to purchase authentic, handcrafted jewelry of the Southwest, the Old Town Portal Market is the place to be.
Become a Part of the Portal Market
Interested local artisans are encouraged to join the Albuquerque Old Town Portal Market. The City program is happy to accept applications from vendors of all backgrounds, something that makes this Portal Market unique from other programs around the state.
Applying to the Portal Market
To become part of the Portal Market an application must be submitted for an Old Town Solicitations Permit. This allows applicants eligibility to participate in the issuance of permits for the Old Town HPO 5 Zone for a one-year commitment, which ends June 30 of each year. There are 50 active craft units in operation at one time, if the program is full, applicants are added to a waiting list. Applications are welcome throughout the year.
A $25 non-refundable application fee is due upon submission of Portal Market Application. 
Old Town Portal Market Advisory Board
The Old Town Portal Market Advisory Board reviews the policy for solicitations and acts to promote communication and collaboration among the parties affected by the Portal Market activities in the Old Town HPO 5 Zone by conducting public meetings on a bi-monthly basis.
The Old Town Portal Market Advisory Board is composed of five members including two representatives of the merchants or property owners in the Old Town HPO 5 Zone, two representatives of the Portal Market and one member-at-large.
Membership
View membership on this board.
Meetings
Meetings are held at the Old Town Police Substation at 4 p.m. 
Schedule of Meetings:
January 11, 2023 
April 19, 2023 
June 21, 2023
October 18, 2023
December 20, 2023
February 21, 2024
April 17, 2024
June 19, 2024
Agendas & Minutes