Gazebo Rental
The Old Town's Plaza Vieja Gazebo is an iconic structure ideal for a public engagement.
Renting The Gazebo
For complete rental and availability information please contact City of Albuquerque Special Events: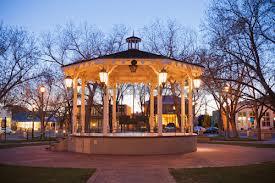 Rent the Gazebo
As with all City Parks, rental of the Plaza Vieja Gazebo does not preclude the use of the park and surrounding areas by the general public which is why The Gazebo is ideal for a public event that engages the community. Successful public events such as press conferences, non-profit soirees, pep rallies, in addition to City sponsored entertainment, are part of the reason Historic Old Town is such an important part of the Albuquerque community. 
For information about the Gazebo, inquire at [email protected]. 
About the Gazebo
Old Town has been the center of community life and the heart of Albuquerque since its founding in 1706. With more than ten blocks of historic shops, restaurants, and homes, Old Town has been the crossroads of the Southwest for nearly three centuries. This serene village preserves all that is authentic about New Mexico including its Pueblo Spanish style architecture. Once an old stone structure, the Gazebo was renovated to have an adobe style framework. The public park has plenty of greenery, beautiful lighting, and small town charm. The Gazebo is one of the focal points of Old Town, located directly in the center of Plaza Vieja.