Old World Walled Gardens
A series of formal walled gardens are found to your right as you enter the Botanic Garden grounds.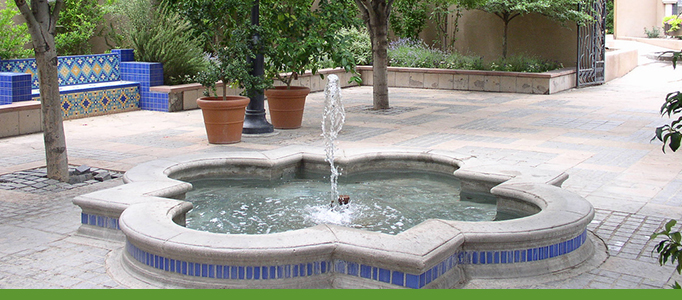 Spanish-Moorish Garden
Beyond the first set of iron gate, the Spanish-Moorish Garden may look like a typical Santa Fe garden to many New Mexicans. The Moorish style, which originated in the deserts of North Africa, was brought to Spain by the Moors and to New Mexico by the Spanish.
Designed to create a cool retreat in the desert with shade provided by walls and trees, a sparing but aesthetic use of water, colorful tile work and aromatic plants, it is a style marvelously suited to our dry climate. Plants typical of Mediterranean regions include rosemary, lavender and pomegranates.
Jardin Redondo

The Spanish-Moorish Garden opens into a small, round garden with raised beds of roses called the Jardin Redondo. Seventy different award-winning roses surround the central planter overflowing with blooming annuals.  Stop to smell the bold blooms of hybrid tea roses or enjoy the clusters of color on the floribunda varieties.
Ceremonial Garden

The Jardin Redondo leads into the Ceremonial Garden. Decorative pillars and arches, entwined with clematis, wisteria and climbing roses, make a large shaded arbor. A raised stage covered with an arbor of white roses make a perfect venue for the many weddings which take place here.