Dragonfly Sanctuary Pond
Features native dragonflies and other wildlife.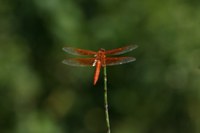 In spring, summer and fall, the Dragonfly Sanctuary Pond is buzzing with activity as dragonflies and damselflies fly, hunt and search for mates.  The exhibit is the first dragonfly sanctuary pond in the United States.
The pond features aquatic habitat perfect for attracting and breeding dragonflies and damselflies. Plants for perching grow around the pond, allowing guests to view and identify several species of dragonflies at once. A stream bubbles into the exhibit from a rocky desert landscape, and a deck overlooks the vibrant scene. A stunning glass mosaic depicting summer insects shimmers on the north wall of the courtyard. The mosaic by artist Laura Robbins will recognize NM BioPark Society donors.
"New Mexico has such a diverse dragonfly and damselfly population," said Dr. Ralph Charlton, Curator of Invertebrates. "Dragonflies were my first love in the 'bug' world, and I'm excited to highlight these wonderful insects for our guests."