Botanic Garden
Welcome to the ABQ BioPark Botanic Garden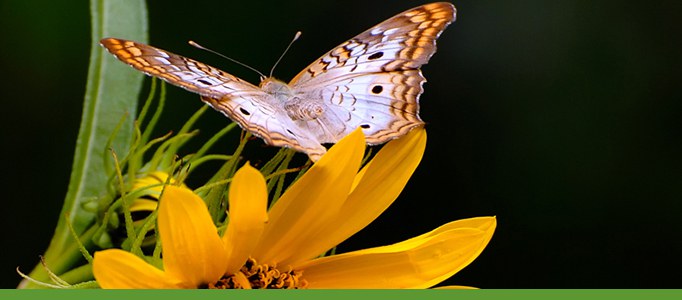 Opened in 1996, the Botanic Garden has grown to 32 acres of exhibits, and showcases plants from the American Southwest and around the world.
The Botanic Garden's BUGarium is one of the most elaborate exhibits dedicated to bugs and arthropods in the country.
The Travel Channel cites ABQ BioPark Botanic Garden as one of the top 12 in the country!
Seasonal Update:
Learn more about featured seasonal plants.
Featured on 9/20: The Japanese anemone is also nicknamed "windflower" for the way their blooms dance gracefully in the slightest breeze. They bloom in the late summer and fall and are a great way to extend perennial color in your garden. Because Japanese anemones have a single row of petals they have an abundance of stamens, and therefore an abundance of pollen, which the bees adore. Japanese anemones appreciate part shade in the Southwest but can tolerate full morning sun and filtered afternoon sun.
Japanese anemones can reach up to 4' tall in the garden and most cultivars will reseed prolifically but are not difficult to control. Allow them to naturalize in your yard to create a perfect fall pollinator habitat. Once the petals drop, the globe-shaped seed heads are an ornamental accent into winter and the leaves and stems will provide protection and nesting sites for overwintering beneficial insects. They can be cut back to the ground in late winter or early spring as part of your regular spring yard clean up.
In the Sasebo Japanese Garden, 'September Charm' begins the fall show in late August and early September and just as it reaches it's peak bloom, a second cultivar, the white-flowering Anemone x hybrida 'Honorie Jobert' takes over the show. Using both cultivars in succession extends the blooming season right up until the autumn leaves begin to color and drop.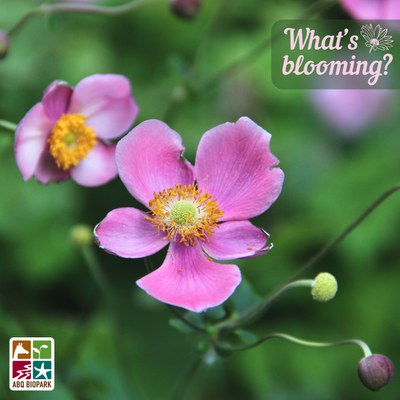 Featured on 9/13: Lantana is a frost-tender herbaceous plant in the verbena family, native to tropical areas of Central and South America and Africa. Lantana is a heat-loving, drought tolerant annual in the Albuquerque area; one of few annual plants that can bloom continuously through the heat of summer. Lantana comes in an array of saturated colors from pink and white to yellow, orange, and red. It is much-loved by pollinators, in particular butterflies, but in warmer climates it can be invasive as the seeds are eaten and spread by birds. It can be planted in containers, hanging baskets, or in the ground as a bedding plant, and requires very little supplemental care once planted. Water regularly and fertilize once or twice during the growing season and lantana will reward you with colorful blooms for late spring to early fall! Pictured below is the cultivar Lantana 'Bandito Orange Sunrise', in the Jardín Redondo.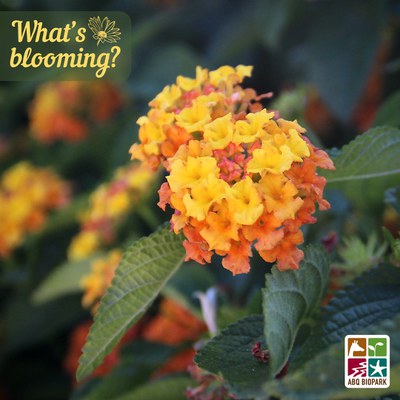 Featured on 9/6: Sweet Autumn Clematis, scientific name Clematis terniflora, is a fast-growing deciduous twining vine that can be as big as 20 feet long! While many twining vines climb by twisting the stems OR leaf stalks around a support structure, this plant from the buttercup family uses both. An abundance of fragrant white flowers, like a mix of honey and vanilla, bloom in late summer/early autumn and are attractive to many different pollinators. Even after their flowering season is over, leftover silvery seedheads make it an attractive winter interest as well. It grows best in full sun or partial shade, but can be tolerant of dense shade too. Be sure to give it moist, well-drained soil and prune back severely in winter or early spring; the flowers need new wood to sprout from next season. Whether you train it to climb or allow it to grow along the ground and wander through shrubbery, it's a beautiful choice for your fall and winter scenery!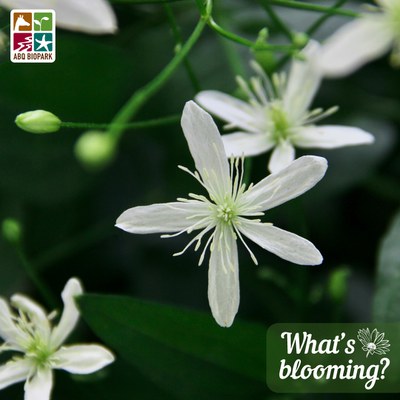 Featured on 8/30: Plumbago auriculata, commonly called Cape leadwort, originates in South Africa and is a sprawling shrub whose branches resemble vines. The sky blue flowers can be shown off beautifully when planted over a retaining wall, where the branches can cascade down over the edge. You can find it hanging from on high in our Mediterranean Conservatory!
In optimal conditions, it is an evergreen that blooms all year long and can be 6-10 feet tall with a near-equal spread of about 8-10 feet. It blooms best in full sun and can take the heat even drought once established; it can still tolerate some shade at the cost of less bloom but it doesn't hold up as well to our winter temperatures when in the ground. You can grow a smaller plant in a roomy container so that you can bring it into a warmer space when the temperature drops too much, or substitute it's relative: the Hardy plumbago (Ceratostigma plumbaginoides) is a ground cover better suited to our climate and also boasts blue flowers. You can see that species in our Japanese Garden!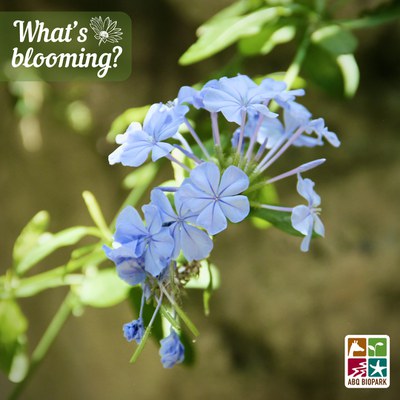 Featured on 8/16: The Common Sunflower, Helianthus annuus, is an icon of summer and was featured in some of Van Gogh's most famous paintings. They are typically between 3 feet and a towering 10 feet tall, but the tallest sunflower on record reached 30 feet 1 inch! Most ornamental sunflowers that are allowed to re-seed will eventually return to this common form. Sunflowers can be sown every couple of weeks throughout the year to extend blooming period and are a great source of nectar and pollen for pollinators. They will also be a favorite food choice for seed-eating songbirds in the late summer and fall. Sunflowers are allelopathic to some plants, including common herbs and vegetables so choose carefully where you allow sunflowers to grow in your garden.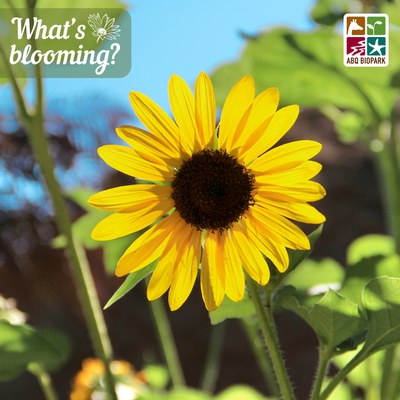 Featured on 8/9: Oxalis triangularis has a few subspecies, many cultivars in different colors, and many nicknames. It may be referred to as purple Oxalis, the Love Plant, Purple wood sorrel, Purple Shamrock or False Shamrock; the last two due to it's resemblance to a 3 leaved clover, especially in green-leaved varieties. Although it does share trifoliate leaves like species in the clover genus, it is actually a type of wood sorrel and not related to true shamrocks. This South American native's attractive ornamental leaves make it a lovely addition to either an outdoor garden as ground cover or indoors as a houseplant. 
There is another special feature to enjoy with these beauties: their leaves (and sometimes flowers too) open and close according to the light! If you observe them at sunrise or sunset, you can watch them wake up or go to sleep. 
They may also close in harsh direct sunlight, as they prefer full to partial shade or direct sunlight through a window if necessary. They need well-draining soil and only need watered when the top 2 inches of soil have dried. They will have dormant periods, but will come back year after year with proper care!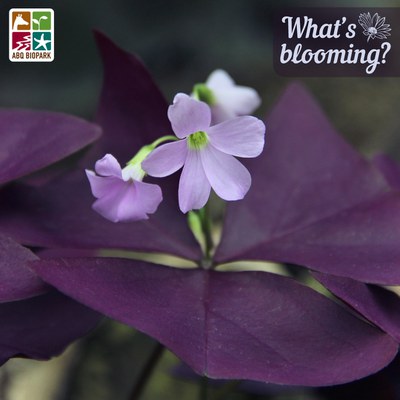 Featured on 8/2: Crape myrtle, or Lagerstroemia indica, is a small ornamental tree or large shrub that flowers mid to late summer and the blooms can last for weeks. It's available in single-trunk or multi-trunk specimens, well known for their decorative, peeling bark. There are many cultivars in a variety of colors including pink, white, purple, and red. They are late to leaf out in the spring, so plant them with evergreen or early spring blooming shrubs like lilac and mock orange to create multi-season interest and highlight the ornamental bark while the crape myrtle is still dormant. The shrub form can be added as a hedge or accent plant, while the tree form serves well as a summer or winter focal point in the garden. Some crape myrtle also feature brilliant fall color! Four season interests in so many shapes, sizes, and hues make crape myrtle a versatile choice for ornamental gardens in the Southwest. Crape myrtle prefer an even amount of moisture and can be somewhat drought-tolerant once established. They don't require much pruning or other maintenance to keep them looking good, and most have an upright vase-shaped habit that makes them an excellent choice for small areas.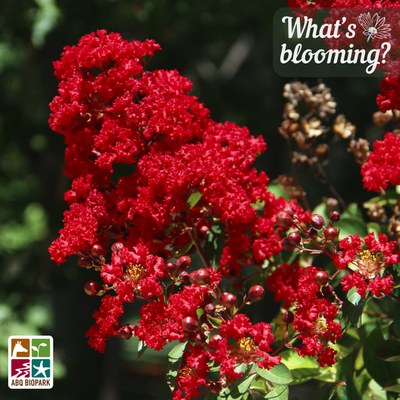 No results were found.