Information about Los Altos Skate Park.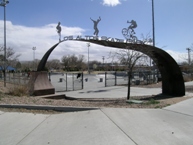 Hours
Summer Hours (April to September)
7 a.m. to 8 p.m.
Winter Hours (October - March)
9 a.m. to 5 p.m.
Location
10140 Lomas NW
View Los Altos Skate Park in a larger map.
The park is designed for BMX bikes, skateboards and in-line skates. Night lighting is provided.
Features
Concrete Course
A street course and two bowls
Clover bowl, combination bowls, a banked street course
5 stair grind structures
Facilities
Benches
Tables
Picnic shade structures
Bleachers
Next to Los Altos Swimming Pool and Softball Complex
Safety
Wearing a helmet is mandatory for any person under 18 years of age. Other protective gear -- knee pads, elbow pads, wrist & ankle protection -- is strongly recommended.
The skate park is a skate-at-your-own-risk facility. Know your ability and skate accordingly.
Skating on wet surfaces is not allowed. The use of alcohol is strictly prohibited at all times.
Diagram
Document Actions