Summertime in Old Town
Join us in Historic Old Town for live local music all summer long!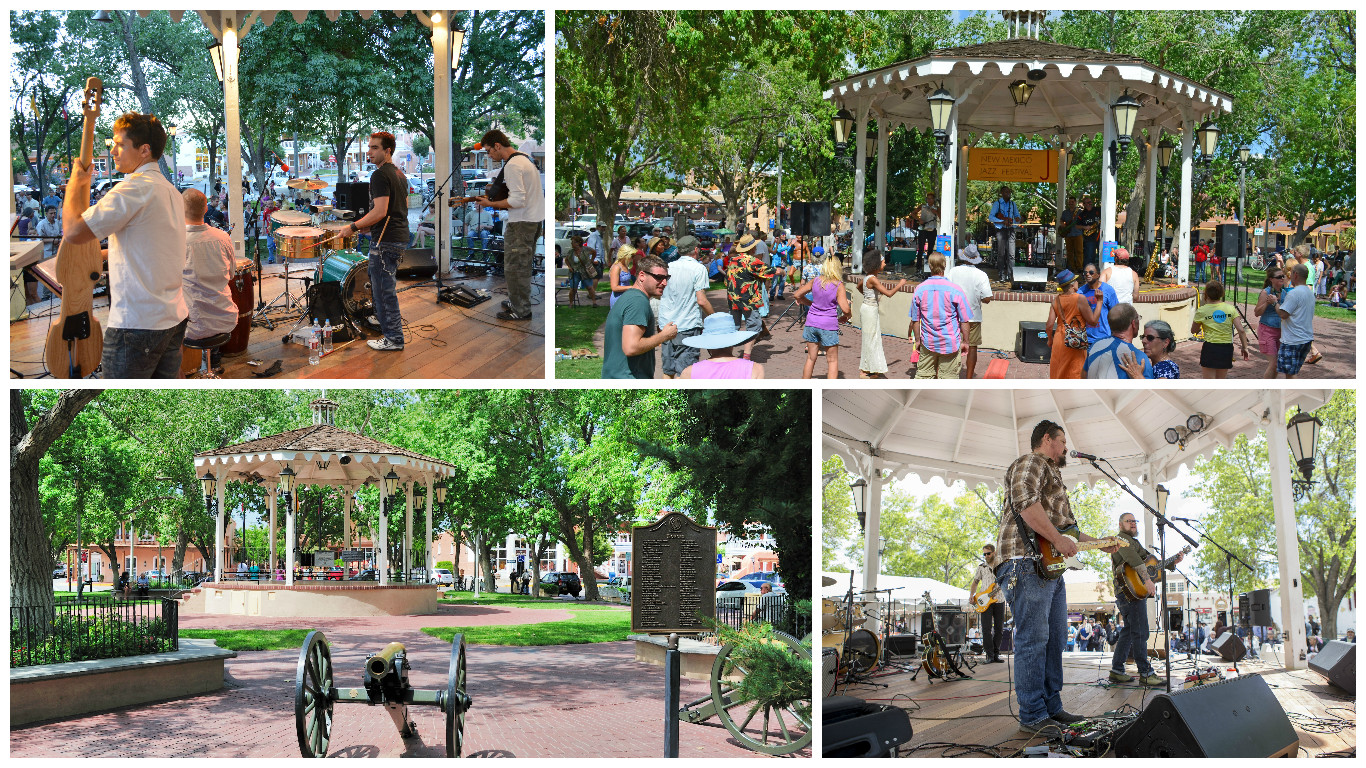 Every weekend from May to September Old Town is the best place to be. With beautiful plazas, great food, unique local shops, and live music on the gazebo, it is the perfect way to spend a day with friends and loved ones.
Entertainment Schedule
May
June
July
Saturday, July 1 - 7-9 p.m. - Hot Texas Swing Band - Western Swing
Sunday, July 2 - 1-3 p.m. - Los Primos - Authentic Mexican Folk Music
Friday, July 7 - 7-9 p.m. - HierbaBuena - Latin/Variety
Saturday, July 8 - 7-9 p.m. - Cynical Bird - Rock/Americana/Pop
Sunday, July 9 - 1-3 p.m. - Casa Flamenca - Flamenco Fiesta
Friday, July 14 - 7-9 p.m. - Black Pearl Band NM - Variety
Saturday, July 15 - 7-9 p.m. - Tracey Whitney - Sophisticated Jazz/Classic Soul
Sunday, July 16 - 12-5 p.m. - Western Youth Day - Presented by the Western Music Association
Friday, July 21 - 7-9 p.m. - Underground Cadence - Blues/Classic Rock
Saturday, July 22 - 7-9 p.m. - Mariachi East San Jose - Mariachi
Sunday, July 23 - 1-3 p.m. - Inspire Crew - Pop/Rock/Dance
Friday, July 28 - 7-9 p.m. - Mariachi Buenaventura - Mariachi
Saturday, July 29 - 7-9 p.m. - Mondo Vibrations - Reggae/Rock/Soul
Sunday, July 30 - 1-3 p.m. - Happy Gland Band - Folk/Indie/Fun
For Performers
Interested in playing in Old Town? For more information, email varchuleta@cabq.gov.
More Music in Historic Old Town
Be sure to swing by one of the many gorgeous plazas in Old Town, as you never know what kind of performances you might run into. Also, stroll by the Albuquerque Museum Saturdays from 2-4 p.m. for Art in the Afternoon, including music and free admission.
Offering a visually appealing step into the past, the New Mexico Gunflighters Association put on performances in the afternoon, every 2nd and 4th Sunday between March through October. Enjoy their skits as they act out scenes from the Wild West on San Felipe Road near the Rattlesnake Museum. Don't miss the family-friendly performances that include pops of gunfire throughout the show.
Connect