Sandia Foothills Open Space
Information about Sandia Foothills Open Space.
Hours of Operation
April - October: 7: a.m. to 9 p.m.
November - March: 7 a.m. to 7 p.m.
Holidays: Sandia Foothills Open Space areas are open 365 days a year.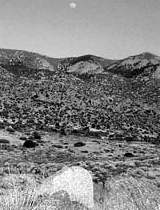 The Sandia Foothills Open Space contains approximately 2,650 acres of steep sloped hills intersected by gravelly drainages at the base of the Sandia Mountains.
The numerous drainages support a wider variety of shrubs including chamisa, apache plume, three-leaf sumac and oak species. Wildlife in the Foothills includes mule deer, coyote, black bear, cougar, rabbit, rock squirrel, lizard, and rattlesnake - plus a wide variety of birds. Elevation ranges from 5,720 to 6,800 feet above sea level in the area.
The plant species include a variety of grasses and wildflowers, cane cholla and prickly pear cactus. Single-seed juniper and piñon trees dot the landscape.
Maps & Area Descriptions
To access the Foothills Open Space parking areas from Interstate 40, exit on to Tramway (north for all sites except for the Route 66.)
Recreation in the Sandia Foothills
Trailheads provide access to the Foothills trails as well as the Sandia Mountain Wilderness Area, managed by the US Forest Service. Recreational opportunities include hiking, horseback riding and mountain biking. A map of the Foothills trail system is available. Picnic shelters are located at the Elena Gallegos Picnic Area, Menaul, and Embudo Canyon.
Fire Restrictions
View information about fire prevention and restriction levels.