Plan Review
The City of Albuquerque Plan Review section is responsible for ensuring code compliance of all construction drawings and documents.
What documents are required?
Site Plan/Plot Plan are required to include:

the location of the property
All existing buildings (including dimensions and distances to property lines)
All proposed additions or structures to the existing building (including dimensions and distances to property lines)
Identification of required setbacks

Proposed Construction Drawing:

Elevation Drawings
Floor Plan
Foundation Drawings
Framing Plans
Plans showing all Electrical, Plumbing & Mechanical installation

Supporting Documents. Examples include, but are not limited to:

Truss Details
Stucco Specifications
Beam Calculations
Unusual Building Material Specifications
Engineering Specifications for Metal/Steel Construction ( i.e. shipping containers)
How can drawings and documents be submitted?
ePlan
To speed up the permit application process, the Planning Department has created the ePlan system.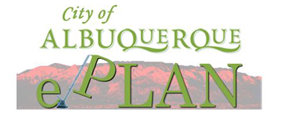 ePlan is an electronic plan review process and is available to developers, contractors, architects,
homeowners, and anyone planning to apply for a building permit within Albuquerque.  Review
the information in the links below for additional information.
Building Application - for paper plan submittal only!
FasTrax
FasTrax is Albuquerque's fee-based, expedited plan review process, available to
those seeking a building permit. 
Applicants can expect an average turnaround time of six days, using the FasTrax system.