Mayor Tim Keller's Crime Strategy
Tackling crime from all sides to build a safer Albuquerque.
Click on a topic below to learn more about what we are doing to tackle crime and how you can help.
---
Message from Mayor Keller
Crime is the most pressing issue in Albuquerque and I have made public safety my top priority.
We are aiming higher when it comes to our expectations of safety and security for the people of Albuquerque by continuing to reform the Albuquerque Police Department, getting back to real community policing, hiring more police officers and getting them the tools they need. We are also facing some of the pervasive root causes of crime head-on by addressing homelessness, addiction and behavioral health challenges.
Building a safer Albuquerque after a decade of rising crime is a long road. For lasting results, we can't rely on band-aids fixes - we must approach all different kinds of crime with resolve and determination.
Learn more below about these efforts to make our city safer, block-by-block.
---
Community Policing
The idea is simple: Build relationships and work with communities to address their concerns and priorities.
We are successfully fighting crime when we work hand-in-hand with communities to implement solutions that keep people safe. Our officers are working with neighborhoods, business owners, faith-based organizations, schools, and more to tailor proven public safety strategies to meet the needs of specific areas. APD Community Policing comprises three key components: Problem Solving, Community Partnerships and Organizational Transformation.
Problem Solving: Solving problems means, first, identifying issues that need to be addressed and then determining resolutions and devoting effort to meeting needs for a successful outcome. The SARA (Scanning, Analysis, Response, and Assessment) model is one of the most familiar processes for problem-oriented policing (POP). APD is using this model.
Community Partnerships: Partnerships between law enforcement and the individuals and organizations they serve to develop solutions to problems and increase trust in police. APD will focus on creating partnerships with a diverse section of the Albuquerque community and will work with key community stakeholders including, but not limited to:
Other law enforcement agencies
Social service providers
Business community
Educational institutes
Local prosecutors
Faith-based organizations
Neighborhood interest groups
Youth organizations
These partnerships will identify community challenges and focus on developing a strong road map to address those challenges (problem solving).
Organizational Transformation: APD is transforming the way we provide service to residents. The new focus is based on the three guiding principles of community policing. The transformation begins at the roots of the department by changing our training to develop the principles during the earliest stages of a police officer's career. The instruction will carry on throughout an officer's career as these principles become the benchmark for department recognition and advancement. The police department will begin developing community police officers who will lead the department for the next 25 years and following.
What You Can Do
What We Are doing
---
Behavioral Health
Tackling crime from all sides means addressing challenges like homelessness, addiction, and behavioral health. When it comes to behavioral health, we are working to increase access to services so people can get the compassionate care they need.
APD is partnering with Albuquerque Fire Rescue, Family and Community Services, and other departments to improve and increase access to services.
Crisis Intervention Team (CIT):
The Crisis Intervention Team's goal is to provide an effective response to situations involving people who might be mentally ill or in crisis.
The CIT works with people in the Albuquerque community who exhibit chronic behavior patterns that may pose risks to themselves or others.
One of the team's primary goals is to ensure that situations involving people in crisis are defused so to avoid force and proper medical attention or referral to an appropriate follow-up agency is provided.
The team also works closely with the mental health care provider network to help identify deficiencies in our health care programs.
What You Can Do
What We Are Doing
---
Homeless Help
Homelessness is a harsh reality in Albuquerque and we've outlined a multifaceted approach including emergency shelter, transitional housing, and more. In collaboration with our community partners, we're addressing immediate needs while working to build the city's first centrally-located, 24/7, year-round homeless shelter.
We are increasing emergency shelter options and adding transitional housing because housing is key. Housing allows folks to focus on other needs like finding employment, obtaining quality childcare, and taking care of physical and mental health.
What You Can Do
What We Are Doing
---
Children's Safety
---
Domestic Violence
---
Rape Kit Backlog
---
Gun Violence
For nearly a decade, gun violence has become ever more pervasive and is often connected to other crimes. At the beginning of 2019, homicides were down from 2018, though non-fatal shootings had increased and most homicide offenders used firearms.
We are targeting gun violence with the same focus we use to target auto theft and robbery. We are adding resources, investing in new technology, and working with communities to keep guns out of the hands of criminals. We have a long road ahead, but we're implementing new strategic approaches and will not back down.
What You Can Do
Learn More
What We Are Doing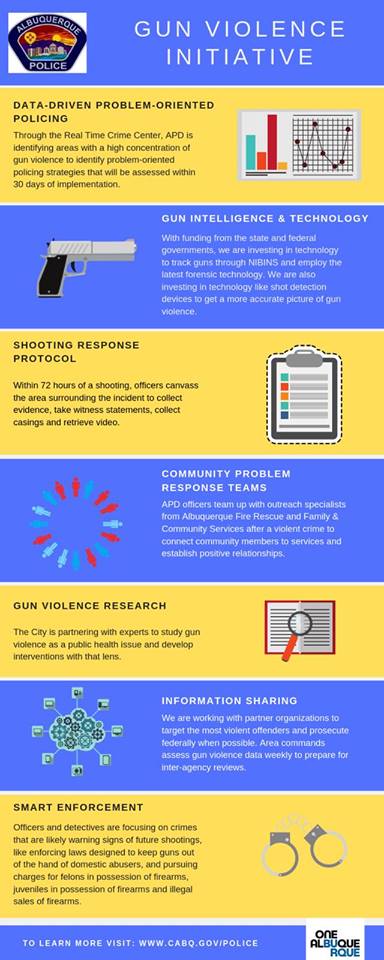 ---
Bikes and Pedestrians
Far too many families in Albuquerque have known the heartbreak of losing a loved one to a car, bicycle, or pedestrian crash over the years. As we focus on public safety, we have to take a hard look at the safety and inclusiveness of our transportation infrastructure.
Learn More
What We Are Doing
---
Auto Theft
For the residents of New Mexico, auto theft is a particular problem. Auto theft is a crime that is often connected to other crime like robberies and violent offenses. By focusing on auto theft with strategic tactical operations, we are starting to see a difference.
What We Are Doing
---
Quality of Life
We are taking back our public spaces by adding more lighting, addressing crime hot spots like abandoned buildings, and needles in parks.
What You Can Do
What We Are Doing
---
Statistics and Reports
Data is a key to doubling down on strategies that work.
Learn More
What You Can Do
What We Are Doing
---
Reforming APD
We are owning the responsibility of APD reform and enacted the most extensive restructuring of APD in recent history, which included reestablishing a compliance bureau and getting the right people in key roles.
The new leadership team is committed to reforming and turning this department around in earning public trust, restoring department morale and shifting to a culture of community protection and accountability.
Learn More
What You Can Do
What We Are Doing
---
Staffing APD
Recruiting and retaining qualified officers is critical to giving APD the staffing level needed to fight crime.
What You Can Do
What We Are Doing
---
Funding Public Safety
As New Mexico's previewst city, Albuquerque has the potential to impact the rest of the state. Our City's annual budget is a reflection of our priorities – that's why we're working with City Council to make funding public safety the top priority. We also advocate during the year for investments from the State Legislature, the federal government, and others.
Learn More
What We Are Doing
---
Tactical Programs
We're focusing our crime-fighting efforts and resources on targeted, strategic tactical operations to make an impact.
Metro 15 Operation
Violence Intervention Program
Rapid Accountability Program (RAD)
What We Are Doing
---
Tools and Innovation
We are attacking crime from all sides, which requires modern tactics, data and technology.
What We Are Doing
---
Animal Welfare
What You Can Do
What We Are Doing
---
Apply to APD
---
Apply to AFR
---
What you can do
Everyone can play a role in helping to make our city safer. Join us with other neighbor­hood leaders, business owners & faith-based organizations today.