50-Mile Activity Loop
Albuquerque's 50-mile bicycling, running, and walking loop.
View the interactive City of Albuquerque Bike Map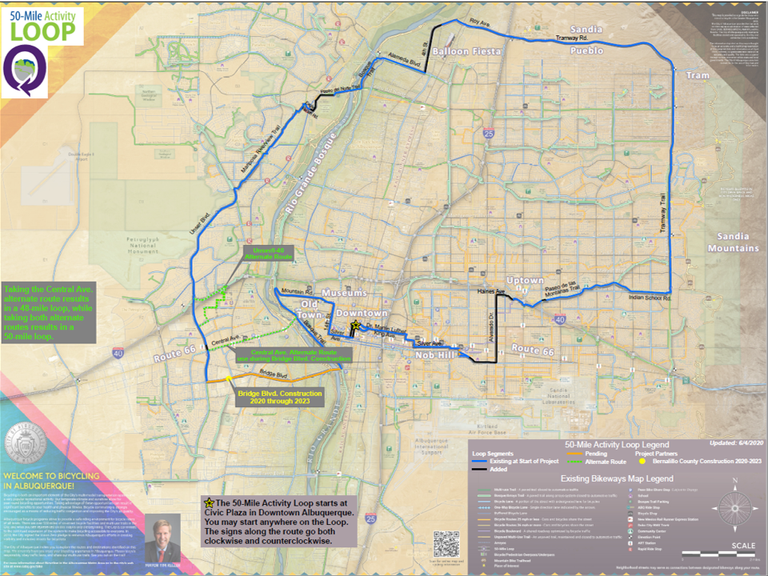 Project Summary
The 50-Mile Activity Loop is the City of Albuquerque's 50-mile multi-use trail and bikeway path. The project benefits quality of life and health and wellness for locals with opportunities for economic development, tourism and possible events, such as a 50-mile or Century ride and charity walks. The 50-Mile Activity Loop project is substantially complete.
The Loop starts in Downtown Albuquerque and travels through the Old Town and museum district, crosses the Rio Grande and touches the edge of Petroglyph National Monument. It travels along the Riverside Trail up to the Paseo Del Norte Trail, and on to Balloon Fiesta Park. It takes trail-goers along the northern edge of the city and along the Sandia Mountains. On their way back to Downtown, there are shopping and eating opportunities to enjoy, thus stimulating the economy and also creating one more reason to live, work, and play in Albuquerque.
Remaining Projects
Phase 7: Bridge Boulevard Project, Bernalillo County
The Bridge Blvd project extends from Coors Boulevard to the Riverside Drain. It is a key project in the implementation of the Bridge Blvd Corridor Redevelopment Plan. Funded by federal funds and local matching funds. This project will take place in various phases.
Phase 1 Tower Rd includes a buffered bike lane and is estimated to be completed early 2021.
For information: Visit the Bernalillo County website or call 505-848-1534.
Links
Contact the Planning Department
No results were found.