Route 66 Summerfest 2022
Free event featuring local businesses and talent in Nob Hill.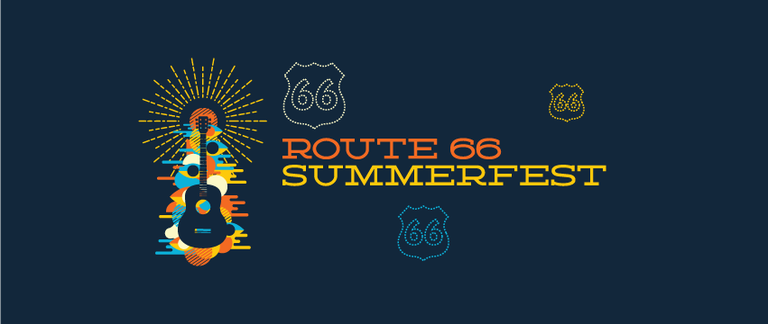 Saturday, July 23, 2022 | 5-10 p.m. | Nob Hill 
This free event includes multiple stages full of local bands, food trucks, and more! This edition of the concert series takes over a mile-long stretch on Central Ave. from Girard Blvd. to Washington St. Bring the family, enjoy the fun and celebrate Route 66. See all of the event features in one place: Event Map and entertainment schedule. 
Performers 
Las Cafeteras have taken the music scene by storm with their infectious live performances and have crossed genre and musical borders. Their electric sound & energy has taken them around the world playing shows from Bonnaroo to the Hollywood Bowl, WOMAD New Zealand to Montreal Jazz, & beyond!
Born and raised east of the Los Angeles river, Las Cafeteras are remixing roots music and telling modern day stories. Las Cafeteras create a vibrant musical fusion with a unique East LA sound and positive message. Their Afro-Mexican beats, rhythms, and rhymes deliver inspiring lyrics that document stories of a community seeking love and justice in the concrete jungle of Los Angeles.
Using traditional Son Jarocho instruments like the jarana, requinto, quijada (donkey jawbone) and tarima (a wooden platform), Las Cafeteras sing in English, Spanish, and Spanglish and add a remix of sounds, from rock to hip-hop to rancheras. Las Cafeteras use music as a vehicle to build bridges among different cultures and communities, and create 'a world where many worlds fit'.
Entertainment Schedule 
This portion of Route 66 in Albuquerque will be full of music as bands perform from multiple stages. 
Main Stage: Central Ave. & Girard Blvd. 
Wellesley Stage: Central Ave. & Wellesley Dr. 
NM Jazz Festival Stage: Central Ave. & Carlisle Blvd. 
Focus on Black Music in New Mexico
5 p.m. - Diane Richardson & Soul Shadows
6 p.m. - The Rodney Bowe Experience 
7 p.m. - Andrew Cooper & Smooth Soul featuring Cat Powdrell
8 p.m. - Toni Morgan & Soulful Sound 
Route 66 East Stage: Central Ave. & Graceland Dr. 
Brick & Mortar
Nob Hill businesses will be open with plenty to offer the whole family. Check out the unique stores, bars and restaurants in the area and support local. 

Food Trucks
Local food trucks will offer freshly made cuisine so guests can grab a bite and stroll down Central Ave. while listening to music. Event-goers can order food from food trucks like Albuquerque Slow Smoked Barbecue, CCR Roasting, Chocolate Cartel, Higher Calling Concessions, Hot Stuff Café, Kamikaze Kitchen & Food Truck, Menchie's Frozen Yogurt, The Supper Truck, Tino's Catering, and Wow Wow Hawaiian Lemonade.

Kids' Activities
Bring the kids to enjoy fun activities including free face painting, inflatable obstacle courses, and two 25-foot climbing walls presented by the City of Albuquerque Parks & Recreation Department. 

The Shops
Look for the long rows of white tents and find handmade products created by local artisans. Find everything from jewelry to clothing, home goods to body products and more from small businesses like amp3art, Bee Nice Beauty, Bijoux Metis, Born & Raised Clothing Co., Dawson Designs, D.e.e.hs Candles & More, Erin Leigh Designs, Fle Soley, Francesca Margaritondo's Pottery, Goodgets, Half Full Designs, Handmade by Traci, JDecker Designs, khmogen design, Kichwas Souvenirs, Koi Mountain, Loves Creations, Lujaqui, Lust for Dead Oddities, Metal the Brand, ML Designs, Mobius Theory, Oakenwell, Old Norse World Cuisine, Quiet Creations, Some Rabbits, Super Rad Design, The Imperfect Heart, Tribal Creations, Two Stoned Betties, WiseWorks, and Woofstock. 

Getting There 
Route 66 Summerfest is located on Central Ave. between Girard Blvd. and Washington St. Traffic and bus routes in the area will be effected as Central Ave. will be closed. 
Free Park & Ride 
Parking is available at the lot on the southwest corner of Lomas Blvd. and University Blvd. (View Map) Free buses will run from the lot to Johnson Field throughout the event.
Parking
Paid parking lots and street parking is available in the surrounding area. Please be sure to follow all parking laws. 
Bike Valet
Pedal your way to fun! Skip traffic on the road, stick to the trails, and take advantage of the free Bike Valet provided by Esperanza Bike Education Center. Ride to Nob Hill Business Center on Central Ave. and Carlisle Blvd. and valet your bicycle. 
---
Event Specifics
Route 66 Summerfest is free to the public. Pets are welcome on leashes. Keep an eye on summer temperatures and stay hydrated in the desert heat. This is a rain or shine event. 
Public Restroom Locations
Portable units are available at the following locations:
Central Ave. & Dartmouth Dr.
Central Ave. & Bryn Mawr Dr.
Central Ave. & Tulane Dr.
Central Ave. & Hermosa Dr.
Central Ave. & Sierra Dr. 
Road Closures
Central Ave. will be closed from midnight on Friday, July 22 until midnight on Saturday, July 23. Bus routes will be effected. Please check ABQ Transit webpages for route changes. 
Vendors
The deadline to apply to participate as a vendor in Route 66 Summerfest has passed. 
---
Thank you to our sponsors! 
Let's Get Social! 
Enjoy the sounds of summer and stay up-to-date on the latest event news.