ABQ Summerfest in Nob Hill
Free event featuring local businesses and talent.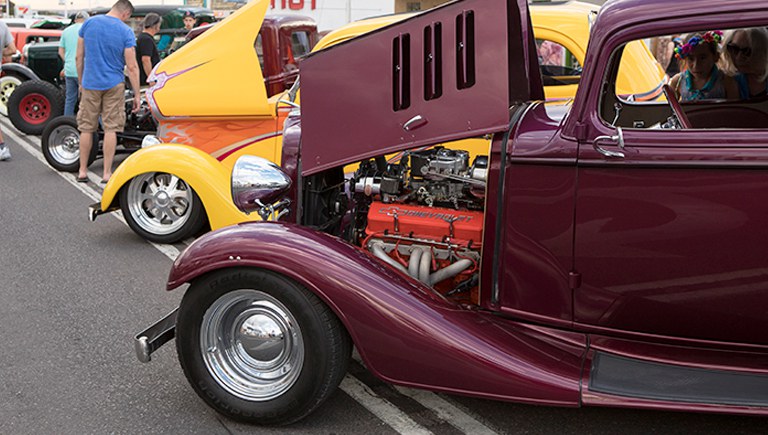 Saturday, August 7, 2021 | 5-8 p.m. | Nob Hill 
This free event includes multiple stages full of local bands, food trucks, show vehicles, that will take over Nob Hill on Central Ave. from Girard Blvd. to Carlisle Blvd. Bring the family and enjoy the fun!
Local Entertainment Schedule
Wellesley Stage
Tulane Stage
New Mexico Jazz Festival Stage at Fan Tang 
Wheels on the Hill
This curated showcase will features specialty vehicles from local car clubs. Check out restored/refurbished classic cars, low riders, sports cars, one-of-a-kind show cars, and more! There's a car genre for everyone to enjoy. 
The deadline to apply to participate in the Wheels on the Hill has passed. 
Please note that the Old Route 66 Car Show will return in 2022. 
Food & Snacks
Great food and delicious beverages can be found on just about any corner in Nob Hill. Relax in one of the many restaurants in the area for libations, ask about their specials. Grab a bite to eat from a local food truck like CCR Roasted Corn, Craft Q a Barbecue Co., Gourmet Doner Kebab, Kamikaze Food Truck, Pop Fizz, Pop Pop's Italian Shaved Ice, Street Food Institute, and Umami Moto. 
Shop Local
Support Nob Hill businesses and enjoy local specials from restaurant and boutiques. 
Event Specifics
Albuquerque Summerfest is free to the public. Pets are welcome on leashes. This is a rain or shine event. 
Parking is available on a first-come, first-served basis around the event area. Parking lots are located on Silver Ave. the west and east side of Amherst Dr. and in the garage on the north side of Central Ave. between Wellesely Dr. and Tulane Dr. behind the storefronts. Handicap parking is available in these lots. Please be mindful of all posted street signs and parking laws. 
Restroom Locations
Public restrooms will be available at the following locations:
Central Ave. & Richmond Dr.
Central Ave. & Bryn Mawr Dr. 
Central Ave. & Tulane Dr. 
Local Vendors
The deadline to apply to participate in ABQ Summerfest as a vendor has passed. Local food vendors and artisans with handcrafted products interested in participating in future events can email business information to [email protected]. 
---
Let's Get Social! 
We can't wait until we can gather again and enjoy the sounds of summer! Stay up-to-date on the latest event news.