BioPark Docent
Introduce visitors to the amazing diversity of life, help them see how everything is connected and encourage everyday conservation.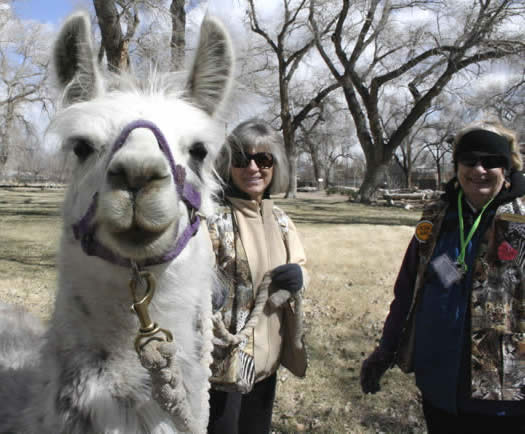 Docent Details
Ages:
18 and older
Minimum time commitment:
60 hours a year
Upcoming Trainings
Check back for new docent training opportunities.
Apply to be a Volunteer
Contact Information
Volunteer Coordinator
505-768-3443
[email protected]
BioPark Docents
Volunteer teachers, called docents, teach about the diversity and interdependence of life and inspire a sense of stewardship for the earth.
Docents undergo a 10-week training to become volunteer teachers at the ABQ BioPark Zoo, Aquarium or Botanic Garden. They introduce visitors to the amazing diversity of life, help them see how everything is connected and encourage everyday conservation.
Share favorite parts of the BioPark through guided tours or informal mini-tours.
Help visitors explore nature using exhibits and hands-on biofacts such as education animals, animal pelts, shark skin, urchin spines, tree rings or insect specimens.
Take the BioPark on the road! Visit local classrooms through outreach programs.
Get free regular admission to the BioPark facilities and the inside scoop on new exhibits.
Attend continuing education classes led by experts in zoology, botany, marine biology, veterinary medicine, ecology and other areas of science.
Zoo Docent Duties
Travel around New Mexico on the Zoo To You van teaching about animals and conservation.
Walk a llamas, alpacas or a porcupine, and give Zoo visitors the chance to meet them up close! A variety of birds and small mammals are also available for on-grounds Discovery Stations.
Garden Docent Duties
Introduce visitors to the flora of Baja, South Africa, Chile or Greece inside the Desert and Mediterranean Conservatories.
Answer the question, "Why do we need plants?" and teach about plants that provide food, shelter, clothing and medicine. Teach about the interdependence of life and the many animals (from bees to butterflies to bullfrogs) that live in gardens.
Get your hands dirty! Involve visitors in hands-on gardening experiences.
Travel through time with visitors at the 1920s-1930s era Heritage Farm. Demonstrate wool working, quilting, canning and cooking.
Teach about invertebrates using butterflies, millipedes, Madagascar hissing cockroaches, tarantulas and scorpions.
Aquarium Docent Duties
Reveal our connections to the sea. New Mexico may be landlocked, but you can teach Aquarium visitors about how we affect the health of the ocean and how its health affects us.
Explore river, salt marsh, coral reef and open ocean habitats and share with visitors along the way.
Give visitors hands-on experiences they won't forget at the Touchpool and Shark & Ray Encounter.
Narrate as divers feed animals and clean the Shark and Coral Reef Tanks. Share information about sharks, eels, stingrays, porcupine fish and more!
Uniform
Docents wear a printed fabric vest worn with uniform colored shirts/blouses and pants/shorts/skirts. Uniform colors include black, brown, tan and white. An identification badge and nametag must also be worn with the uniform.
Benefits
Upon completion of the training, docents are given an identification badge, which allows free regular admission to all BioPark facilities (Zoo, Aquarium and Botanic Garden). Volunteers can receive a discount at food concessions and gift stores with their valid Education Volunteer ID during regular operating hours. Volunteers are also awarded recognition items for their service, offered discounts to all fee-based BioPark Education programs and invited to special volunteer-only events.
How To Apply
Check back for upcoming opportunities.