Volunteering at the BioPark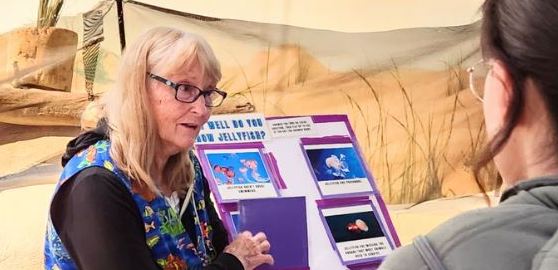 Apply to be a Volunteer
Contact Information
Volunteer Coordinator
505-768-3443
[email protected]
The volunteers of ABQ BioPark Education make many programs at the BioPark possible. Education could not carry out its mission of teaching about life and encouraging conservation without the generous work of volunteers.
No specialized knowledge is necessary to become a volunteer. BioPark staff will teach you everything you need to know in the orientation sessions. We ask that you bring your enthusiasm, a commitment to conservation, a sense of responsibility and patience. Experienced volunteers and staff are available to assist you after training, and monthly volunteer meetings keep you up to date. Find upcoming orientation dates.
Benefits vary with positions, but generally include free admission to all BioPark facilities (the zoo, aquarium and botanic garden) during regular daytime hours and discounts at the food and gift concessions.
Volunteer Opportunities
Volunteer jobs are for ages 18 and older, unless otherwise noted. Due to the high volume of applications received, we will review applications as volunteer positions are needed. Volunteer trainings occur 3-4 times per year, based on need and capacity.
Conservation Camp Counselors: Assist Camp BioPark teachers during week-long summer programs. (16+)
Docent: CURRENTLY FULL, NOT TAKING APPLICATIONS AT THIS TIME - Inspire guests with the amazing diversity of life, encourage everyday conservation.
Garden Railroader: Help run the Botanic Garden's G-scale model trains. All aboard!
Ambassadors: Welcome guests to the Zoo, Aquarium and Botanic Garden.
Horticulture Volunteers: CURRENTLY FULL, NOT TAKING APPLICATIONS AT THIS TIME - Dig in alongside horticulture staff and care for gardens throughout the BioPark.
Nature Guides: Share the fascinating world of animals and plants with guests through discovery stations at the Zoo, Aquarium and Botanic Garden. Inspire them to help care for the Earth! (14+)
Touchpool Volunteers: Help guests get hands-on at the Aquarium's touchpools.
Student Volunteers: Get hands-on experience in conservation education working alongside education staff. (16+)
Upcoming Volunteer Trainings
No results were found.