Puerto del Sol Golf Course
Puerto del Sol is Albuquerque's only golf course featuring a lighted driving range.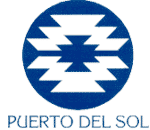 Puerto del Sol Contact Information
Address:
1800 Girard SE
Albuquerque, NM 87106
View map
Telephone:
(505) 265-5636
Fax:
(505) 268-8275
Golf Professionals:
Pro Shop Manager:
Bob Turner
Lighted Driving Range open 7 nights a week, Memorial Day until Labor Day!
Rated an outstanding 9-hole course by the National Golf Foundation, Puerto del Sol includes ample-sized greens and wide tree-lined fairways.
Most holes are straight, and the terrain is flat with the exception of two rolling fairways.
The course is easy to walk, making Puerto del Sol popular with beginner golfers and seniors.
This regular 9-hole course measures 3,030 yards from the championship tees, 2,830 yards from the regulation tees, and 2,525 yards from the forward tee. The 9-hole par is 35 for both men and women.
Golf & Learning Center at Puerto del Sol
Golf instruction at Puerto del Sol comes available in 2 areas of distinction, one from a highly recognized PGA Instructor in Todd Kersting, director of Golf at Puerto, and in that of a highly recognized High School Coach & PGA Class A Professional in Coach Ron Allen. Both instructors are available by phone, or through e-mail for appointments for lessons, or on your next visit to Puerto del Sol for your golfing needs, you can just ask for Todd or Coach Allen at the Pro Shop counter. Lessons are available for players beginner to advanced using some of today's keenest eyes & advanced technology. Give us a call or just come on by!
View more information about lessons with Coach Todd Kersting
Juniors
Since 2012, Coach Allen has offered a Sunday Juniors program at Puerto to introduce children to golf as the spring approaches. Weather permitting, each Sunday at 2 p.m. to 3:15 is available starting in February.
Call for more information: (505) 265-5636.
This was followed up with our Junior Golf Camps for ages 5 to 14 years old, running 2 days per week, all summer long. Our Tuesday-Thursday camps offer more intensive instruction and loads of fun for youngsters wanting to learn the game of golf. Each of these activities has become annual offerings at Puerto, of course with weather permitting. We'd like to see the next golfer in your family get his or her start at Puerto del Sol.
Junior lessons for kids from ages 5 to 14 years old are also available upon request. Cost for private lessons for juniors is $35 per lesson, or $150 for a series of 5 private lessons.
2017 Lessons
2017 Summer Camps start on June 6. Tuesdays and Thursdays in June and July from 8:30 a.m. to 11:30 a.m. each day.
$100 per week. (Includes instruction, materials, practice balls, equipment if needed and lunch). Returning students pay discounted rate of $85. Discounts also available for siblings.
Sign up weekly or call ahead to reserve your spot.
Puerto de Sol: (505) 265-5636
Ron Allen: (505) 507-5039
email: [email protected]
Adults
Year-round instruction for golfers of all ages occurs at Puerto del Sol. There are hundreds of golfing stories that have begun at Puerto with Todd Kersting & Coach Allen. Whether you start in a group session or UNM Continuing Ed class with Todd, or your first swings are with Coach Allen, your golfing story will be fun, informative and long lasting. Take time to call or check in at the Pro Shop with either instructor to begin your golfing journey.
Call for more information: Puerto del Sol – (505) 265-5636
Monday-Friday
Regular
Senior
Junior
9 Holes
$18
$13.50
$9
9-Holes Replay
$7
$4.50
$3
* 9 - Holes Afternoon
$13
Tournament
$30
Weekends & Holidays
Regular
Senior
Junior
9 Holes or Replay
$20.50
$20.50
$10.25
9 Holes Replay
$11
$11
$5.50
* 9 - Holes Afternoon
$13
Tournament
$34
* Afternoon rates are effective 4 1/2 hours before the official sundown.
Junior rates are in effect seven days a week including holidays.
| Golf Carts | Double | Single | Half |
| --- | --- | --- | --- |
| 9 Holes | $15 | $9 | $7.50 |
| 9 Hole Pull Cart | | $3 | |
| Range Balls | Ex-Large | Large | Small |
| --- | --- | --- | --- |
| | $10 | $7.50 | $4.50 |
| Gift Certificate Buckets | 15 Buckets | 30 Buckets |
| --- | --- | --- |
| | $90 | $169 |
Scorecard
Course Map
Course Scorecard
| Hole | 1 | 2 | 3 | 4 | 5 | 6 | 7 | 8 | 9 | OUT |
| --- | --- | --- | --- | --- | --- | --- | --- | --- | --- | --- |
| Blue Tee | 175 | 393 | 319 | 308 | 370 | 345 | 188 | 495 | 350 | 2955 |
| White Tee | 148 | 358 | 292 | 290 | 360 | 330 | 168 | 478 | 328 | 2752 |
| Red Tee | 125 | 340 | 270 | 270 | 345 | | 120 | 404 | | 2474 |
| Ladies/Mens Par | 3 | 4 | 4 | 4 | 4 | 4 | 3 | 5 | 4 | 35 |
| Ladies/Mens Handicap | 8/9 | 5/3 | 7 | 2/4 | 1/2 | 4/6 | 9/8 | 3/1 | 6/5 | |

Slope Information
| Course | Slope | Ratings | Yardage Markers | Yardage |
| --- | --- | --- | --- | --- |
| Blue | 110 | 66.8 | Measurements are to the middle of greens | 2955 |
| White | 108 | 65.0 | Measurements are to the middle of greens | 2752 |
| Red | | 65.0 | Measurements are to the middle of greens | 2474 |