Land Development Coordination Section
Learn about the section that is responsible for the One-Stop Shop.
What We Do
This section is responsible for the operation of the One-Stop Shop located on the ground floor of the Plaza del Sol building downtown. This shop conveniently provides permitting, contractor resources, developer resources and homeowner resources in one place.
How We Serve You
The One-Stop Shop takes applications for site plans requiring review by the Environmental Planning Commission (EPC) or Development Review Board (DRB); subdivisions and platting actions; building permits requiring EPC or DRB approval; vacations of public and private easements and rights-of-way; bulk land variances; infrastructure improvements agreements extensions; variances for subdivisions, sidewalks, parking, and access & connectivity standards; and construction deferrals.
In addition, applications for the Landmarks Commission, administrative approvals or amendments of site plans, zone map amendments, text amendments to the Integrated Development Ordinance, Comprehensive Plan amendments, and annexations are accepted at the One-Stop Shop.
Development Review Board
The administrative functions for the Development Review Board (DRB) are another important responsibility of this section. Records for DRB cases are available at the One-Stop Shop.
The section manager also chairs the DRB and is responsible for reviewing subdivision applications for compliance with the Integrated Development Ordinance and other applicable land use plans.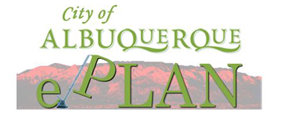 The DRB also has ePlan submission available. Click here to learn more about DRB ePlan and find step-by-step instructions on how to use the electronic plan review system.
Contact Us
For Land Development Coordination Section questions, please contact the Section Manager at (505) 924-3880.
For application information, please contact one of the Land Development Coordination Section Planning Assistants at (505) 924-3861 or (505) 924-3895.