Transformative Neighborhood Planning Meetings
Find meeting information including dates, agendas, minutes, and recordings.
Gibson Community Action Area
In November, 2022 the City of Albuquerque signed a Good Neighbor Agreement with neighborhoods adjacent to the Gibson Health Hub. This agreement established a Community Action Area and monthly meetings between the City and neighbors. 
These Transformative Neighborhood Planning Meetings are open to all members of the Community Action Area. The goal is to build consensus on the issues that neighbors want to address, as well as develop action plans by mapping assets in the community. This platform ensures an equitable representation of voices from neighborhoods surrounding the Gibson Health Hub. Together the group will prioritize productive ideas and communication to identify root causes of poverty, crime and violence in the community, while also addressing concerns in real-time. 
Read the Good Neighbor Agreement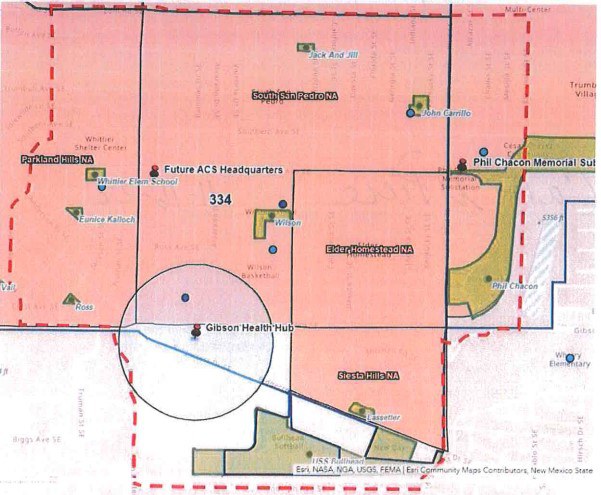 Map of the 2-mile Community Action Area
Meeting Information
All meetings take place the last Thursday of every month.
February 22, 2023 Meeting notes | February 22, 2023 Recording
March 23, 2023 Agenda | Meeting notes | March 23, 2023 Recording
April 27, 2023 Agenda | Meeting notes | April 27, 2023 Recording
May 25, 2023 Agenda | Meeting notes | May 25, 223 Recording
June 22, 2023: Meeting cancelled 
July 27, 2023 Agenda | Meeting notes | July 27, 2023 Recording
August 24, 2023 Agenda | Meeting notes | Recording
September 28 Agenda | Meeting Notes | Recording
October 26 Agenda | Meeting Notes | October 26, 2023 Recording | Housing Voucher Presentation Slides
November 30 Agenda | Meeting Notes | Recording
December 14 Agenda| Meeting Notes | Recording