Mother's Day at the Zoo
NEW EVENT!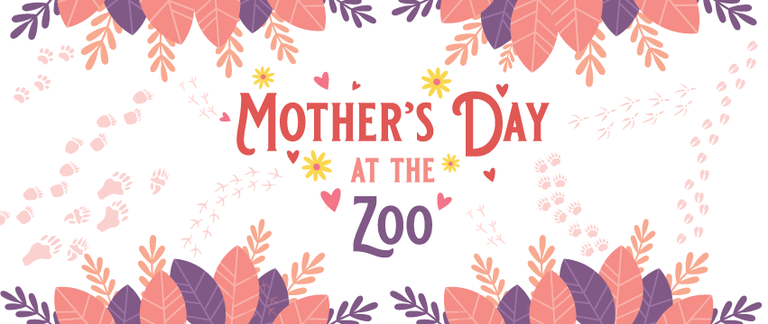 Mother's Day at the Zoo | Sunday, May 8, 2022 | 9 a.m. - 5 p.m. | ABQ BioPark Zoo
Celebrate Mom with the variety of Zoo mothers and their little wild ones. All moms will be celebrated during this special day whether they have toes, paws, hooves or claws. Enjoy music around every corner with the family as you learn more about how the animals raise their young at our Zoo. Grab a yummy snack from one of the stands around the facility or have a picnic in the grass. To make things extra special, add a Mother's Day Brunch to your visit and treat Mom like a queen! 
Get tickets today!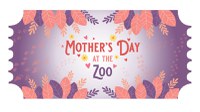 Local Entertainment
Guests can enjoy a variety of music all around the Zoo. Check out the entertainment schedule and locations. 
Flamingo Gazebo
9 -11:30 a.m. – Michele Buchanan – Celtic Harp/Vocals
12-1:30 p.m. – Ryan Smith Cello Music – Variety
2-3:30 p.m. – Kyle Martin – Country/Rock
Nature Theatre  
10:30 a.m. - 12:30 p.m. – El Brujo Trio – Acoustic Nuevo Flamenco
1-2:30 p.m. – Dos Gatos – Southwestern Gypsy/Polka/Waltz/Tejano Blues 
3-4 p.m. - MumboJumbo Jazz Band – Jazz
Penguin Chill Deck  
10:30 a.m. - 12:30 p.m. – The Real Matt Jones – Alt-Country
1-2:30 p.m. – MumboJumbo Jazz Band – Jazz  
3-4 p.m. – Dos Gatos – Southwestern Gypsy/Polka/Waltz/Tejano Blues
Elephant Overlook   
10-11:30 a.m. – Trio Bravo – Norteño/Mariachi
12-2 p.m. – Hooks & The Huckleberries – Country/Rock
2:30-4 p.m. – Sol De La Noche – Latin World Music
Africa Marketplace
Africa Amphitheater
10 a.m. - 12 p.m. – Los Metamorfos – World Fusion
1-2:30 p.m. – Eli del Puerto – Latin Americana
3-4 p.m. - Hooks & the Huckleberries – Country/Rock 
Mother's Day Brunch

Get Mom an extra special gift while celebrating her at the Zoo. A special Mother's Day Brunch will be offered for an additional cost. After adding admission to your cart, you'll have the ability to add brunch to your purchase. 
The last seating time for Mother's Day Brunch is 2 p.m. Brunch is available to pre-order until Tuesday, May 3 at noon. Reserve your seats while they last. 
Menu 
Spring mix salad w/ English cucumber, heirloom tomato, shredded rainbow carrot, herb ranch, balsamic vinaigrette
Smoked salmon display w/ cream cheese, capers, red onion, cooked egg, flatbreads
Scrambled eggs w/ cheddar jack cheese
Applewood smoked thick cut bacon
Home fry potatoes
Belgian waffles w/ strawberries, whipped topping, butter, maple syrup, chocolate chips
Juice bar including a variety of options
One mimosa will be included per brunch purchase for guests 21+ 
*Pre-ordering Mother's Day Brunch is no longer available.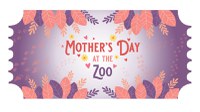 Flower Truck 
Get flowers for Mom! Jennifleurs Flower Truck will be at the Zoo arranging the perfect bouquets. Get one while they last! 
Kids' Activities
Lions, tigers, and fun, oh my! Enjoy face painting and scaling a 25ft climbing wall for free.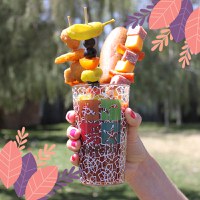 Bloody Mary Bar 
Visit Nature Theater and for $19.95 get an elaborate Bloody Mary in a souvenir cup. Guests 21+ will be able to pick their delicious additions for their drink and stroll around Zoo and enjoy the day full of music and fun. It will be available until 4 p.m.
Bloody Mary Bar topping choices include bacon, bell peppers, carrot, celery, cheese cubes, cucumber, lemon wedges, lime wedges, jalapenos, mini corn dog, onion rings, pepperoni, pepperoncini, pickles, pickled veggies, a variety of olives, pearl onion, and shrimp. 
Discovery Stations 
Join us to celebrate BioPark moms. Visit new, soon-to-be, and veteran mothers around the Zoo. Visitors will learn about all parts of Zoo motherhood, including how it's decided who will become a mother, how we prepare for births, and how we support new moms. 
Discovery Stations around the Zoo will educate guests about family dynamics, maternal care, birth statistics, conservation, and more! 
Planning Your Visit 
Get tickets ahead of time and beat the line. Grab a meal from the Cottonwood Café or treats from the variety of snack bars. 
Event Details 
Glass containers, alcohol, tents, canopies, and sports equipment are prohibited. Pets are not allowed at the ABQ BioPark. 
---
Let's Get Social!