River of Lights
The holidays sparkle each year at the ABQ BioPark Botanic Garden.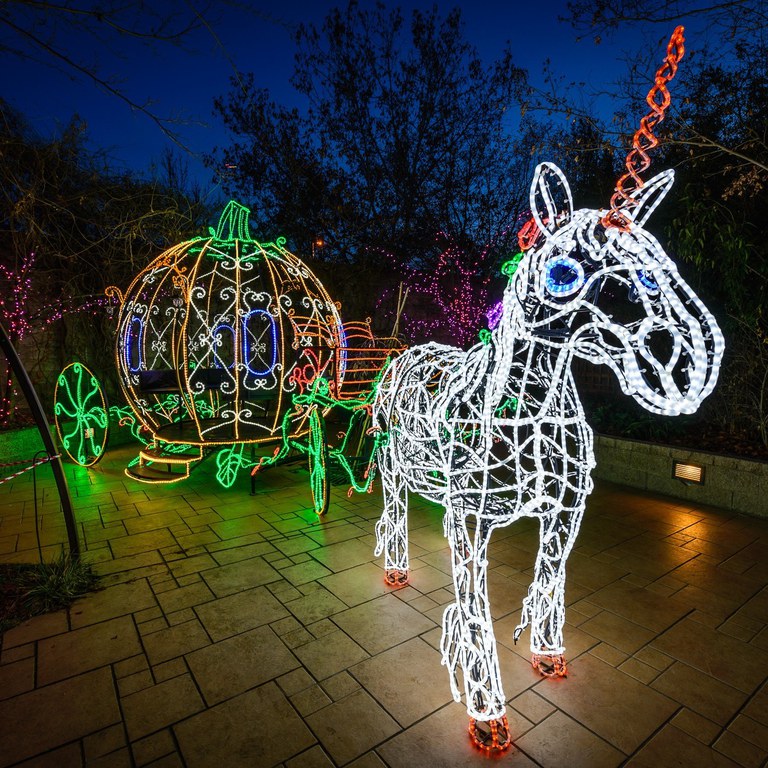 Official Postponement Statement for 2020
Staying safe and healthy is at the top of everyone's holiday wish list. To support these efforts, the New Mexico BioPark Society has decided to postpone the 2020 River of Lights, our largest fundraiser for the year. While this announcement comes with a huge loss of funding for the ABQ BioPark, we are committed to helping prevent community spread of COVID-19.
With optimism for the new year ahead, and the light sculptures you know and love already in place at the Botanic Garden, we are exploring ways to make your 2021 a little brighter in the coming months.
We would like to offer our sincerest gratitude to Bank of Albuquerque, our presenting sponsor, for their incredible commitment to River of Lights and the community at large. 
A special thanks goes out to our media partners KOB TV 4, 100.3 The Peak, 94 Rock, and 100.9 The Breeze for their continued support over the years.
The future looks bright if we all work together. Please mask up, stay home, and we hope to see you in 2021.
- Julie Miller Rugg, executive director of the New Mexico BioPark Society
For more information, visit the New Mexico BioPark Society's River of Lights website.
---
About River of Lights
Enjoy the magic of millions of twinkling lights and nearly 600 dazzling holiday displays at New Mexico's largest walk through light show! River of Lights was voted 8th Place in USA Today's 10 Best Readers' Choice for Best Botanical Garden Holiday Lights in 2018.
Come see why! Learn more about how this amazing light show comes to life each year. 
History
In 1997, River of Lights began as a fundraiser for the BioPark. Today, proceeds continue to support a variety of ABQ BioPark projects through the New Mexico BioPark Society.
Each year's show unveils ingenious new sculptures and stunning displays made by BioPark artists and craftsmen.
Follow these helpful tips for the best River of Lights experience...
Take advantage of the various parking options to eliminate traffic stress!
Come out to River of Lights early in December. Mondays through Thursdays are always less crowded, especially the first two weeks of the event.
Arrive at River of Lights a little later in the evening. It's always busy when doors open, but if you wait until 8 p.m., you'll miss the holiday rush!
Carpool or ride share with friends and family. This can eliminate those pesky parking woes.
Please Note:
Handicap parking is available at the ABQ BioPark Botanic Garden parking lot. Space is limited.
All guests, please park legally. Parking is not allowed outside of designated parking spaces, including on Tingley Drive.
Event Sponsors
The New Mexico BioPark Society would like to thank all its sponsors: City of Albuquerque, Bank of Albuquerque, KOB 4, 100.3 The Peak, 94 Rock, 100.9 The Breeze and ACE.