River of Lights
The holidays sparkle each year at the ABQ BioPark Botanic Garden.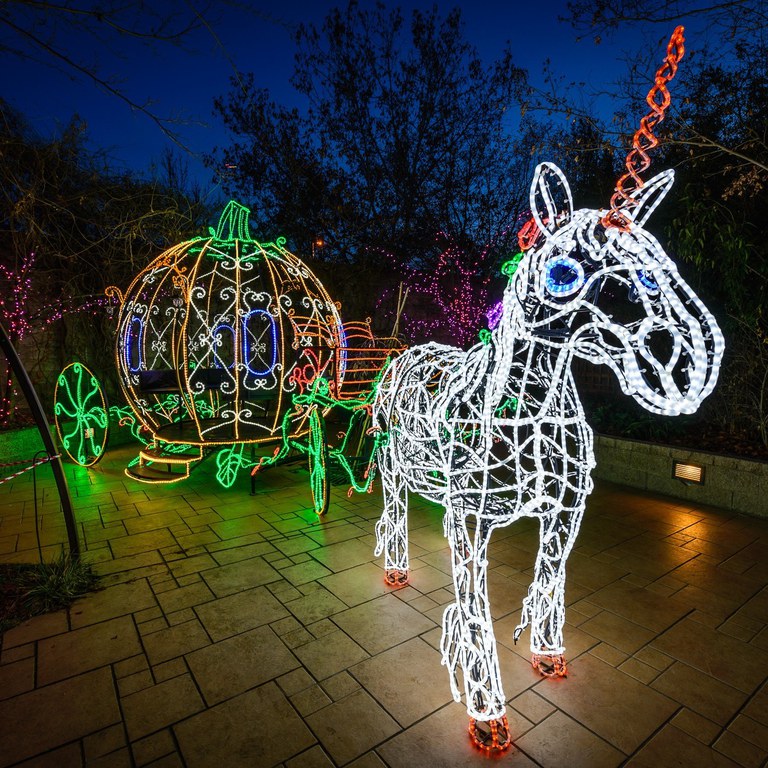 River of Lights 2021
We are excited to bring River of Lights back for 2021. More information coming soon!
---
About River of Lights
Enjoy the magic of millions of twinkling lights and nearly 600 dazzling holiday displays at New Mexico's largest walk through light show! River of Lights was voted 8th Place in USA Today's 10 Best Readers' Choice for Best Botanical Garden Holiday Lights in 2018.
History
In 1997, River of Lights began as a fundraiser for the BioPark. Today, proceeds continue to support a variety of ABQ BioPark projects through the New Mexico BioPark Society.
Each year's show unveils ingenious new sculptures and stunning displays made by BioPark artists and craftsmen.
Follow these helpful tips for the best River of Lights experience...
Take advantage of the various parking options to eliminate traffic stress!
Come out to River of Lights early in December. Mondays through Thursdays are always less crowded, especially the first two weeks of the event.
Arrive at River of Lights a little later in the evening. It's always busy when doors open, but if you wait until 8 p.m., you'll miss the holiday rush!
Carpool or ride share with friends and family. This can eliminate those pesky parking woes.
Please Note:
Handicap parking is available at the ABQ BioPark Botanic Garden parking lot. Space is limited.
All guests, please park legally. Parking is not allowed outside of designated parking spaces, including on Tingley Drive.
Event Sponsors
2021 sponsor list coming soon!