Harvest Days at the Botanic Garden
Enjoy autumn in Albuquerque with fall favorites.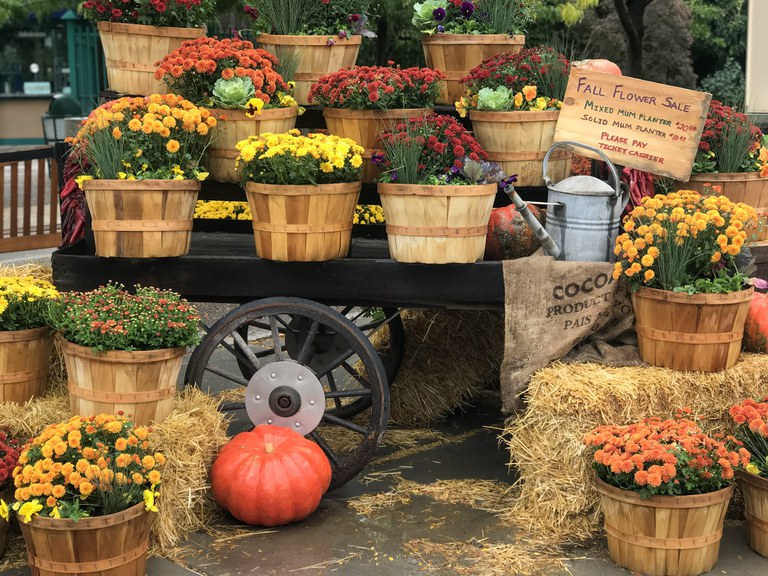 Information for 2021 Coming Soon
The ABQ BioPark is excited to host Harvest Days throughout two fun-filled weekends at the Botanic Garden in October. Discover a variety of landscapes throughout the gardens and celebrate the beauty of the season.
Harvest Days Tickets
Information for 2021 coming soon!
Fall Fiesta of Flowers Show
The Botanic Garden gardeners have been hard at work. Their gorgeous displays of seasonal arrangements will be on view throughout the gardens giving visitors a show and getting them into the spirit of the season.
Harvest Goods
Treat yourself with eats and treats available at the Shark Reef Café. They'll be serving a menu full of season specialties including caramel apples, loaded ribbon fries and churros.
Fall fare will be available throughout the garden. Food and drink stands will offer house-made chips in a variety of flavors, apple cider and local beers for visitors 21 and older with ID.
Entertainment
While strolling through the Botanic Garden, guests can enjoy the acoustic sounds of local bands as they'll be providing a soundtrack to the Harvest Days experience. 
Virtual Harvest Helpers
Learn straight from a specialist as ABQ BioPark docents demonstrate to at-home viewers a variety of harvest skills including canning, jarring and weaving. Videos of the tutorials will premiere throughout both weekends of Harvest Days.
Harvest Specials
Grow the Growers
Visitors can purchase fresh produce in the Heritage Farm from the Bernalillo County program, Grow the Growers. Shop from their recently harvested okra, onions, tomatoes, eggplants and sweet potatoes. For more information about the Grow the Growers program visit: https://www.bernco.gov/community-services/grow-the-growers.aspx.
The Albuquerque Drive-Through Grab & Go Harvest Edition
Guests can conveniently experience this Harvest Day from their vehicle. For more details visit the Grab & Go Harvest Edition Website.
No results were found.