Garden Sounds
Surround yourself with the beauty of nature while listening to local, live music at the ABQ BioPark Botanic Garden.

Garden Sounds | Thursdays in July & August | 6-8:30 p.m. | Botanic Garden
Bring the family to enjoy an evening in the Garden. The Shark Reef Cafe will be cooking up delicious food for the perfect picnic and local bands will provide a dinner soundtrack. Get your tickets today and plan for a relaxing time in one of the City's most beautiful settings. This music series begins July 8, 2021. Tickets are available online and at the door, gates open at 6 p.m. Don't miss out! 
July Entertainment Schedule
Eli del Puerto belts out originals and covers in both Spanish and English. She is a world traveling songbird who arrives to ports around the world singing and dancing. Her artist name, Eli del Puerto, was born while living in the port city Veracruz, Veracruz, México. Her bandmates are accomplished musicians referred to as "Los Encantos", her dear ones. Los Encantos add rhythmic world flare bringing both the music and the audience to life.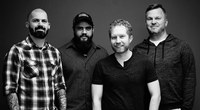 The Real Matt Jones has played shows all over the world, winning awards for both musicality and songwriting, and sharing the stage with multiple international acts including Colin Hay of Men at Work, Sister Hazel, and Rod Stewart. They are redefining what it means to be an "Albuquerque band." The 4 members in this alt-country band have collectively appeared on over 1000 recording projects and have undoubtedly touched some corner of the musical world where you hail from. The Real Matt Jones Band is easily one of the most palatable bands you will hear this year.
Dee Brown is an Oklahoma City Native that has lived in Albuquerque since 2002. Trained both classically and in the black church tradition, Dee is a singer, songwriter, and musician that bleeds all things soulful. His band 'The Dee Brown Situation' is now one of the most sought after bands in town and they are sure to get you out of your seats. His single 'Good Time' is available everywhere and his album is scheduled to be released later this year.
This is a Nuevo Flamenco acoustic trio from Santa Fe, NM that plays original music with a touch of indigenous and Nuevo Flamenco fusion. The trio consists of D'Santi Nava who plays Flamenco gypsy guitar, Chris Riggins on acoustic and classical Guitar, and Deanne Nava de Angel who plays Cajon and percussion. 
August Entertainment Schedule
Higher Ground Bluegrass (HGB) has established itself as a premier bluegrass band in New Mexico. Performing original material penned by members of the group, the band also plays a variety of traditional and contemporary selections influenced by the American traditions of folk, bluegrass, Celtic, country, and rock 'n roll. With four members providing vocal contributions, the swapping of lead and harmonies, offers something new and appealing for each song in their repertoire. This award winning band delivers a superb blend, and interpretation of Bluegrass music, extending boundaries.
The Silver Sky Blues Band is a new ensemble performing American traditional music in the veins of blues, rockabilly, and soul. Featuring band leader Julian Dossett, guitarist Tyler de Caussin, percussionist Brandon Cordova, bassist Scotty Schumann, and saxophonist John-Michael Vasquez. This band will bring the blues into your life and a smile to your face.
Trio Jalisciense is New Mexico's only professional and truly authentic mariachi trio ensemble. This group of elite musicians was formed in January of 2016 under the direction of Jose Santiago. Although the group is relatively new, the three members have worked together for years in the Albuquerque mariachi circuit with New Mexico's top-rated professional mariachi groups. Trio Jalisciense has an extensive repertoire and strives to respectfully preserve the traditional mariachi images and sound.
Dust City Opera is an eccentric folk-rock orchestra from Albuquerque, New Mexico led by acclaimed singer/songwriter, Paul Hunton. Under Hunton's leadership, this eclectic ensemble, which features trombone, clarinet, and accordion, creates a uniquely southwestern sound that keeps audiences wondering what is coming next. This award winning band is focused on sustaining their independent music as they build recognition for their distinctive music on festival stages and radio stations around the globe.
Planning Your Visit
Guests are welcome to bring coolers and picnics. Glass containers and alcohol are prohibited. The Aquarium and BUGarium will not be open during Garden Sounds. Pets are not allowed at the ABQ BioPark. Gates open at 6 p.m.
---
Let's Get Social!
No results were found.