Partnership with Zoo National d'Abidjan
The ABQ BioPark has been visiting the Ivory Coast in West Africa since 2014 to help save a critically endangered crocodile.
Previous Trips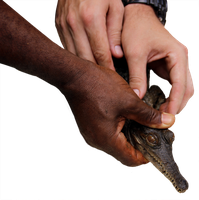 An international conservation partnership
Halfway across the world in Africa, the West African slender-snouted crocodile struggles to survive. Thanks to the work of conservationists—including ABQ BioPark staff—this critically endangered species is getting an assist.
In 2013, Matt Eschenbrenner, former ABQ BioPark zookeeper supervisor for reptiles, had an idea sparked from a chance encounter with conservation scientist Matt Shirley, who studies the West African slender-snouted crocodile. Shirley is the director of Project Mecistops, a group of conservation and crocodile enthusiasts working to save the
West African slender-snouted crocodile from extinction.
During a meeting in Florida, Shirley shared photos of his work with this species at the Zoo National d'Abidjan in the Ivory Coast (Côte d'Ivoire). The Abidjan zoo has more captive slender snouted crocodiles than any other facility in the world, but they were struggling to reproduce.
"I began thinking to myself about ways we could help them get over the hurdle," said Eschenbrenner. He returned to Albuquerque with an idea to start a new partnership between Zoo National d'Abidjan and the ABQ BioPark. His proposal was embraced by the ABQ BioPark and the New Mexico BioPark Society as a way to make a difference in the conservation of this species. This began a multi-year international partnership.
Saving a Species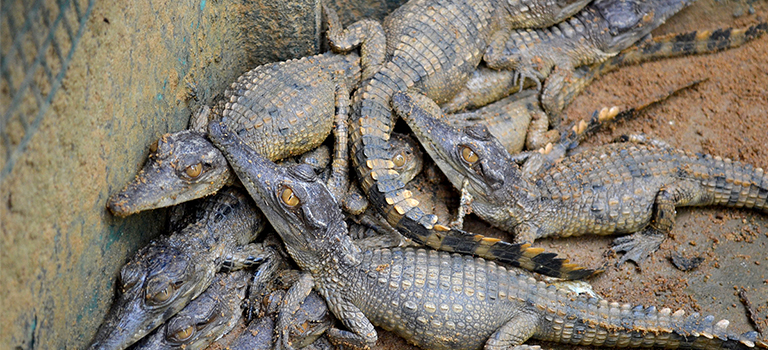 ABQ BioPark team members have visited Zoo National d'Abidjan in the Ivory Coast frequently since 2014 with the goal of helping the facility breed and care for the critically endangered West African slender-snouted crocodile.
In the partnership's inaugural year, Eschenbrenner and Head Veterinarian Ralph Zimmerman spent three weeks performing crocodile health exams, treating animal injuries, building an incubator for eggs and writing protocols.
"A few months after we left, the crew collected some eggs and placed them in the incubator. Within six months, they had their first successful reproduction in more than 20 years," Eschenbrenner said. "It was then that I knew we would be able to return and continue to help them."
Since that first trip, numerous the ABQ BioPark staff members have visited Zoo National d'Abidjan. Over the years, ABQ BioPark staff has sprung to the assist by creating protocol for breeding and care, offering tips and training to keepers, and even gifting much-needed supplies like work boots. The project's broader goal is to create a sustainable captive community of crocodiles that can help augment a dwindling wild population.
What started as a crocodile conservation project has now expanded to other areas of the zoo as well. The ABQ BioPark has helped Zoo National d'Abidjan with habitat construction, veterinary care, animal diet and enrichment, and water filtration for a variety of other animals including the hippopotamus and chimpanzees.